Design tips & trends
Why this classic home design style never goes out of fashion
We are a long way from New York's Long Island. Our climate is vastly different, our environment is different. Yet the architecture and interior design inspired by its playground of the rich and richer, The Hamptons, has become a dominant force in Australian real estate.
Builders, architects, stylists and renovators are increasingly responding to the demand for Hamptons design and style which, with its airy, laidback, coastal feel, sits comfortably in the Australian landscape and lifestyle.
Nadia Fitzgerald, senior interior designer with Rawson Homes, says while there are several iterations and various interpretations, there are certain characteristics that will make a home undeniably Hamptons.
Fitzgerald says the exterior of a home generally showcases weatherboard cladding – although there can be some layering with shingles or even rendered surfaces – usually in neutral, light tones. Timber columns and gables are common, while windows are mostly French or colonial-style. Porthole windows are also one of the strongest hallmarks of classic Hamptons design.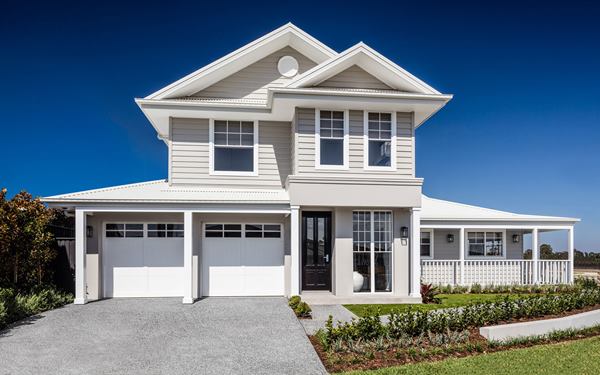 Rawson has a range of eight Hamptons-inspired designs.
Internally, wall paneling is key like wainscoting, built-in cabinetry – often in a shaker profile style – wide floorboards in dark or light oak, and large staircases and stairwells, "which can tend to be quite grand", Fitzgerald adds.
Traditional colour schemes are mostly variations of white or muted grey, with bolder greys, blues and even black used for complementary accents.
The overall feel of a Hamptons home, she says, should be warm, open, relaxed and bright, with maximum use of natural light.
Fitzgerald says the style has become one of Rawson's most requested, prompting the company to increase its range to eight Hamptons-inspired designs, including the Kymira and Mayfield.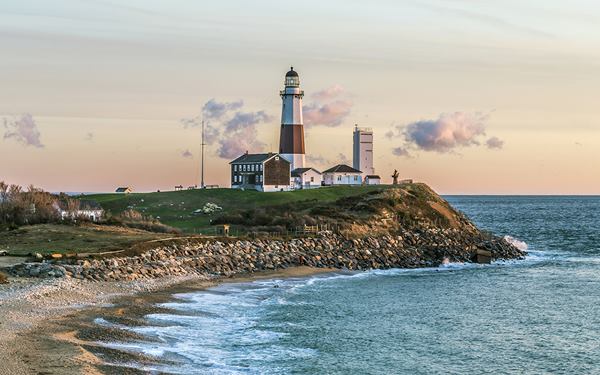 The popular style hails from The Hamptons in New York's Long Island. Photo: iStock
It's an interesting development for a style that's existed in various forms for almost 200 years; Fitzgerald says Hamptons is a strong, classic design that endures, and which can still retain an old-world charm while incorporating more contemporary elements.
"That's the beauty of it – you can build a home in this classic style, but mix and match elements within it, which is why it has such broad appeal."
The Hollywood factor
Interior designer, Natalee Bowen, of Perth-based Indah Island, says interest in the style here surged after the 2003 movie, Something's Gotta Give and got another boost from the 2011 TV series, Revenge – both set in the Hamptons.
Bowen says clients began asking for "that look", even though the Hamptons look is a spectrum from "opulent right down to beach shack".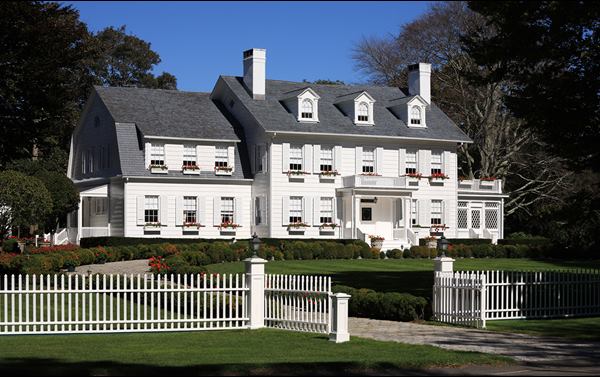 Weatherboard cladding, timber columns and colonial-style windows make a home undeniably Hamptons. Photo: iStock
"That look" appealed to Australians because it lent itself to our love of both open-plan and indoor-outdoor living, Bowen says.
"It doesn't matter what state I work in, people want that indoor-outdoor flow, and they love that it's family-orientated, it's sociable. Mum can be in the kitchen, dad at the barbecue and the kids everywhere in between, and everyone is still in contact," Bowen says.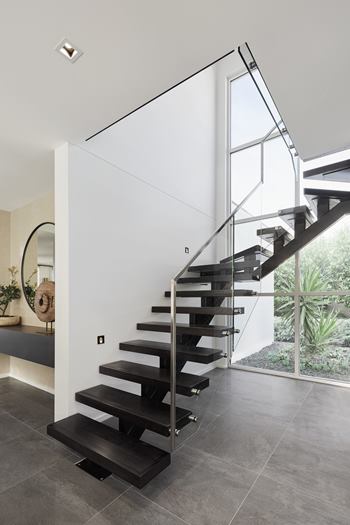 Large staircases are a common feature.
Those solid design precepts combined with the use of natural materials and neutral colours are what make it timeless. Bowen agrees with Fitzgerald that Hamptons design provides a solid framework in which owners can mix and match, layer and incorporate contemporary features, such as marble benchtops in a Shaker-style kitchen, for example.
"It's timeless because it is a kind of middle ground where people can add or adjust, according to their age or personality, at various stages of their life.
"It's very neutral with white walls and white cabinetry which can be brightened up or toned down as you want … you can introduce a piece of heirloom furniture or something more modern.
"It is the sort of home where someone can walk in and not necessarily tell if it was built last year or 10 years ago, which makes for a design that holds its value well."
For more information check out Rawson Homes Hamptons guide or contact us today.
This article is produced in conjunction with Domain.com.au