Design tips & trends
How to choose the right Colour Combination for your home
You've started browsing around for your first home and you're as excited as ever. You have the perfect vision of what design elements you're after but don't yet know how you're going to bring together all your dream elements in the one home. At Rawson Homes, we have design features fit for every personality type and we're sure you will find the ultimate colour combination – of the interior and exterior – for your first home with us. Play around with our design features in Dreambuilder, a home design tool that let's you build your dream home.

Colour holds quite a lot of significance in a home. It can portray your personal style, a certain mood, a particular theme and tie together disparate elements of a home to create the cohesive, 'lived in' feel through a few main colours and a few feature walls to bring forth your identity.

Below we have provided some beautiful examples of which home design is the most suitable for the colour scheme you've always wanted, and what furnishing colours will compliment your foundation's palette seamlessly.
Classic yet Contemporary – Evoke
Our Evoke home design's exterior exudes elegance with warm colours like cream, grey and tan for a modern take on a classic design. For the interior space specifically, it touches on British sophistication with white walls, dark tiled surfaces and matte feature walls.

If you're after a stylish combination of colours, the Evoke is the ultimate example to compliment the tastes of the period home lover after a classical aesthetic. For furniture, your muted backgrounds mean you have the freedom to go a little crazy and add pops of bright, solid tones like royal reds and brilliant blues for soft furnishings and monochrome-friendly ottomans, coffee tables and plating.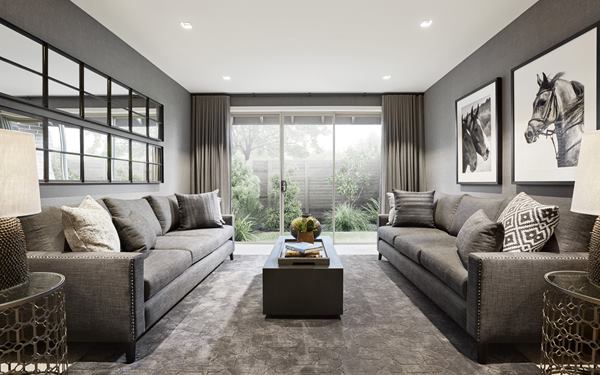 Browse through Evoke at Elara, 17 & 19 Silverthorne St, Marsden Park NSW 2765
Relaxed but Edgy – Seaview
If you want your home to roar a little, the Seaview home design is our take on a dark, dramatic look and feel that is cosy yet a little edgy at the same time. If your heart skips a beat for rich-toned wooden surfaces and moody wall undertones, you have found your colour match.

Seaview's best furniture pairings include blonde timber surfaces to add a dash of contrast to space and you can really inject some boldness in the form of mustard yellows, electric reds and grey couches, stools and dining chairs. Black touches in the form of artworks, vases and bowls add extra depth to space – capturing the essence of creative, eclectic couples.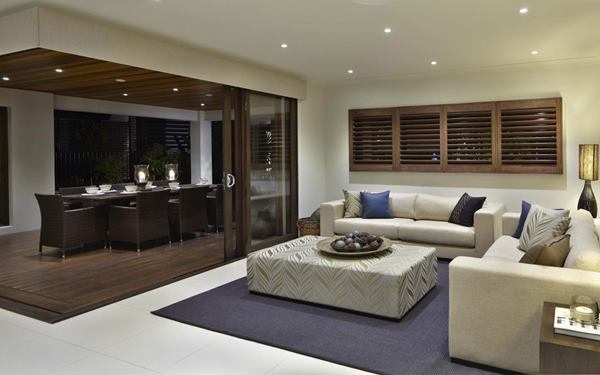 View Seaview at Homeword Kellyville, 21 Hartigan Ave, Kellyville NSW 2155
Scandinavia meets Minimalism – Grace
We love the chic, understated appeal of one of our newer award-winning home designs, the fashionable Grace. Scandi design features like blonde timber are matched with stark white simplicity to reveal a combination of colours that are always timeless and will never go out of style. This stunning abode is suited to well-travelled folk with a knack for the subtleties of life.
Almost any colour scheme will be fitting for the Grace, whether you're after a modernist palette of pastel blues, pinks and yellows or earthy tans, reds and browns, anything will go if done sparingly. Chrome or silver appliances and gold or copper pendant lights and lamps add something a little extra to this queen of refinement.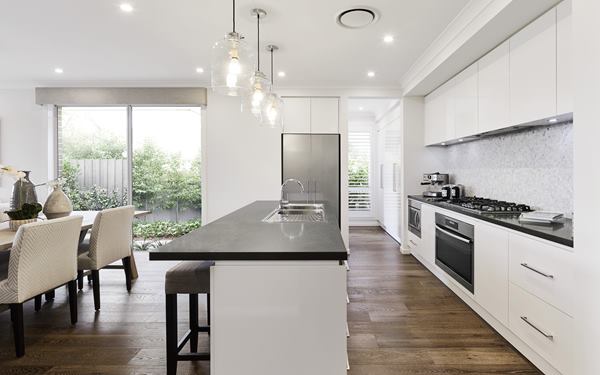 Peruse through Grace at HomeWorld Thornton, 16 Kingham Circuit, Thornton NSW 2322
If you're browsing around for your first home, we are confident that with our knowledge and expertise, we will find a suitable colour palette for even the most discerning of tastes at one of our Rawson Homes Display Locations. Pop over to one of our locations today to have a chat with one of our home design specialists to achieve the ultimate colour combination that'll flawlessly bring together the elements of your first home.