The home building process
How to achieve Hamptons style from the country to the coast
Hamptons style might have originated in the elite coastal playgrounds of New York's rich and famous, but that hasn't stopped Australians from embracing the relaxed elegance and airy interiors from the country to the suburbs.
From the gabled roofline to the weatherboard-clad facade, the classic hallmarks of a Hamptons homes work in any setting, but the style has also evolved to feature design elements inspired by the surrounding environment.
The beauty of Hamptons style is its flexibility – there are so many different design options to make it your own. Here are three different ways to create the Hamptons look:
Hamptons coastal

A traditional Hamptons-style home takes inspiration from the coast with nautical design features and a seaside-inspired colour palette.

The original Hamptons homes were holiday houses designed to withstand their often rugged and windswept locations, which is why hard-wearing weatherboard cladding became synonymous with this style of architecture. But where timber weatherboards require a lot of maintenance in the harsh Australian climate, a composite product such as James Hardie's Linea™ weatherboard will resist flaking or warping while still achieving those deep shadow lines that evoke classic East Coast sophistication.

Keep interiors light and airy with high ceilings, an open floorplan and a seamless connection with outdoor spaces – the al fresco area should be like another room of the house during the warmer months. Check out our Mayfield home design on display at HomeWorld Leppington for inspiration.

A Hamptons coastal colour scheme favours crisp whites and sandy neutrals with navy and duck egg blue as accent shades. Load up on natural materials such as recycled timber and cane furniture, linen sofas and jute or sisal rugs and dress windows with flowy sheer curtains or plantation shutters for breezy seaside style.

Hamptons coastal-style essentials
Exterior weatherboard cladding

Seamless indoor/outdoor living

High ceilings with tall windows for plenty of air flow

Natural textures: recycled timber and cane furniture, linen sofas and jute or sisal rugs

Coastal colour scheme: crisp whites, sandy neutrals with accents of grey, navy and duck egg blue




Hamptons country

Wide wraparound veranda? Check. Open plan kitchen? Check. Shaker-style cabinetry? Check. There are so many parallels between Hamptons homes and the traditional Australian farmhouse, which is perhaps why this style works so well in a rural setting.

Hamptons country takes a more rustic approach than its coastal counterpart, dialling up interior details such as exposed beams and decorative architraves and trading nautical-inspired accent colours for warm, earthy tones such as rust and olive green.

Vertical wall panelling, such as James Hardie's HardieGroove lining, is a key element of country-style interiors, creating a relaxed, homely aesthetic. It can also help to bring different areas together, visually connecting spaces and creating flow. Also consider decorative mouldings, fireplaces and balustrades to add depth and texture to a neutral colour scheme.

For a Hamptons farmhouse-style kitchen, opt for a combination of shaker-style cabinetry and open shelving to display things that are both useful and beautiful. A large island bench topped with timber or stone is a key element, and a porcelain sink adds a rustic touch. Lantern-style pendant lighting above the island creates a warm and inviting space for family and friends to gather. Check out our Winchester home design on display at Box Hill for inspiration.

Hamptons country-style essentials
Wraparound veranda

Dark timber floors

V-groove lining and decorative architraves

Central kitchen with open shelving and a large island

Warm, earthy accent colours such as rust and olive green




Hamptons contemporary
While traditional Hamptons style remains popular, a more modern interpretation pairs classic design elements with bolder colours and textures, paying homage to the hallmarks without being a slave to them.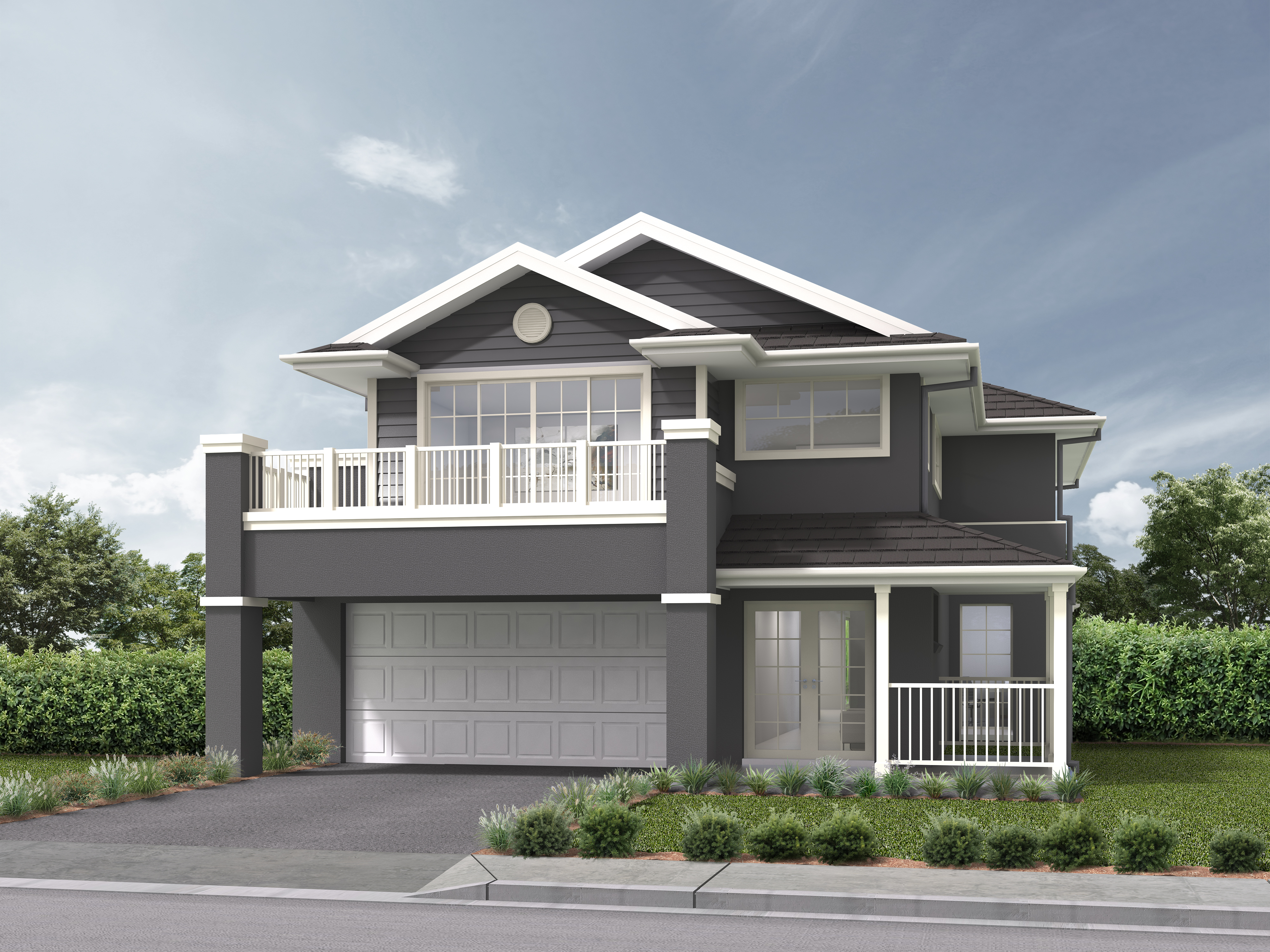 For instance, you might go for the classic open floor plan and decorative mouldings for the interiors but keep things simple in the al fresco area with the clean lines and boxy shapes more associated with modern architecture.
Perhaps you opt for a darker colour scheme in the kitchen to offset some of the white. Or maybe mix things up in the living room by combining timber furniture and upholstered chairs with a marble side table or modern art. Check out our Evoke home design on display at Dubbo for inspiration.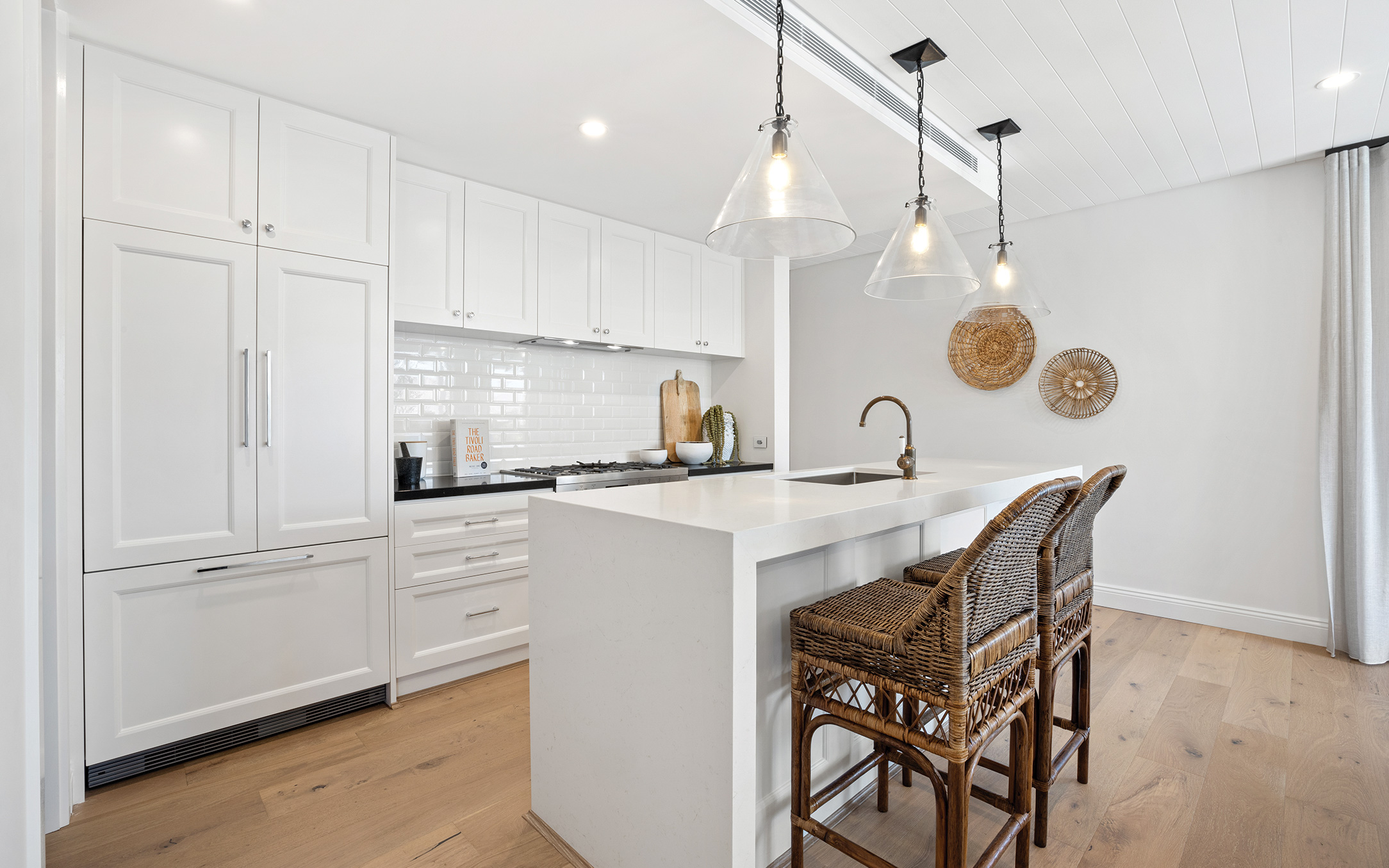 Externally, the classic all-white facade can be reimagined with bolder contrasts – think charcoal as a base with white trim or reverse the monochromatic palette with a white base and black trim.
Hamptons contemporary-style essentials
Bold contrasting colours on the facade such as charcoal and white

Clean lines and simple shapes mixed with traditional decorative features

Accent furniture pieces such as side tables in marble or gold

Modern art pieces
For more tips and inspiration on how to make Hamptons style your own, give one of our home design experts a call on 1300 223 345.