The home building process
Our Rawson Home - Ro and Andy (plus Marble and Peter)
Every new day is like a little nudge on the happy shoulder for NSW north-coast cuties Ro and Andy, and their adorable four-legged companions Marble and Peter, who are as much a part of the family as anyone with two legs could be.
"I feel so lucky to have been able to create something that is just as much ours' as our dog's, too – Ro boasts with an infectious laugh.
As much an introduction as an explanation, Andy rushes in that the pair are "both school teachers as well as Virgos," hastening to add that they're "really enjoying keeping our Rawson home pristine clean". He openly admits their fur babies were always part of their thought process when putting together their future-scape, as well as keeping the good times rolling.
"I think we definitely designed this house around entertaining," he chuckles.
"We've always been the ones that go to other people's homes. Now they come to our home," Ro adds.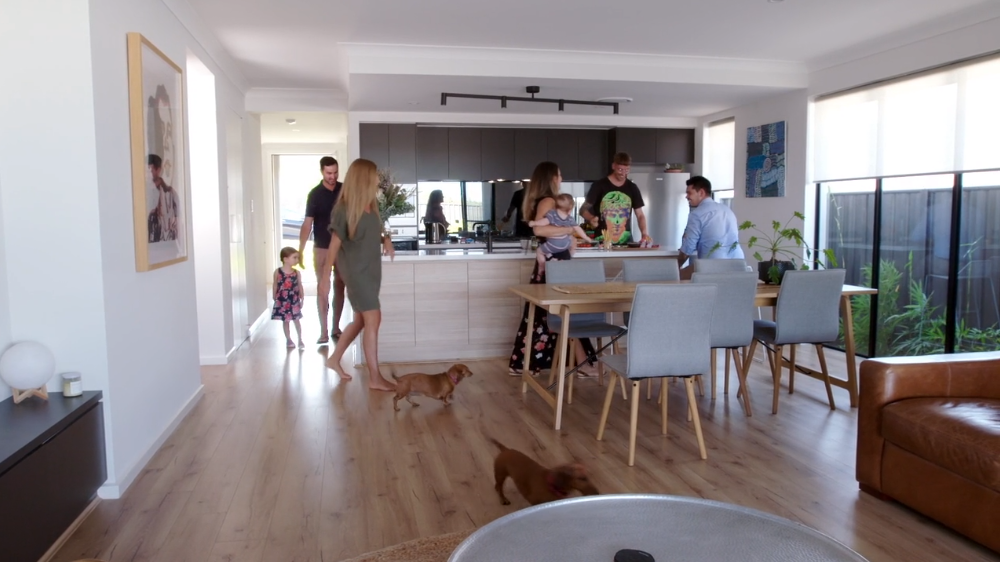 "There's a number of spaces, so if you've got friends that have got kids, or family, you can still spend time outside or in the pool area – but there's multiple spaces within the one larger space, and that's really nice.
"You can't not have a good time in this space we've created," Andy proves, floating around in their pool with an enticing beverage and one of those cute puppies, while Ro talks about the comfort their self-designed en suite offers.
"I spend most of my time in there -my hair takes hours.
"We designed it ourselves. And obviously took a lot of the ideas from Rawson Homes, but mainly for us, I think building a space that we could both use simultaneously… so we've both got two of everything pretty much in the room."
Holding tight to the puppies, Andy just can't hold back. "Rawson has been awesome for this foursome he laughs heartedly," adding, "Nailed that!"