The home building process
Landscaping ideas for your brand new home
Amid all the excitement of building a new home, landscaping can often become an afterthought. But great gardens don't happen by accident; each design is reactive – responding to climate, spatial considerations and the life and style of the homeowners. Here, Rawson Homes' landscape design manager Jamieson Coote shares tips to help you create your own slice of paradise and backyard inspiration from our favourite landscape designs.
How to choose a landscape design for your new home
We've long used flowers as aids to ailments, manicured symmetrical lawns to induce feelings of order and calm, and looked to rippling water features for relaxation. But the task of creating green spaces that revolve around the individual, rather than the latest trends, still leaves many unsure of where to start.
Cottage-style or formal, native or coastal, the best gardens all have one thing in common: they, like homes, reflect the lives of those who live in them. Effective garden designs – arrangements that don't just address the aesthetics, but thoughtfully respond to the lifestyle of dwellers.
Rawson Homes' landscape design manager Jamieson Coote says that choosing the right design for your landscaping all starts with a cohesive brief. "Homeowners should think about how they'd like to use their garden and what their requirements are for the space," he explains.
Do you want a backyard where you can kick the football with the kids? Or do you spend your downtime entertaining outdoors? Will it be a sanctuary for you to relax and unwind? Do you want an area to grow vegetables? These questions will help you create a wishlist for your outdoor space.
One feature that's proving popular across the board is creating an 'outdoor living' space such as a deck or garden terrace. These can act as an extension of your home's footprint, particularly in the warmer months, so make sure you give it careful consideration, no matter how big or small your garden is.
The essentials of good landscape design
Ideal garden design considers several factors:

the style of the home

the people who live in the home

the yard's aspect – does it face north or south?

the block's terrain – is it sloping or flat?

the site's climate

pre-existing features, like pools.
Tallying up these elements gives landscapers a guide for what's possible within your space.
"Often clients want something that's not necessarily easy to achieve," Jamieson says. So, you need to consider any physical limitations and consult an expert to figure out how best to work around them.
Knowing which design ideas will work in your garden, and which may not be quite right, doesn't have to be a case of trial and error. For functional, well-rounded outdoor spaces, Jamieson suggests reverting to the designer's ultimate cheat sheet.
Jamieson believes the principles of landscape design can be summed up in six areas:
unity

balance

proportion

harmony

contrast

rhythm.
"Structures and plants all need to be organised into a composition of spaces to satisfy these principles."
How to select plants for your garden
One of the main things to consider when choosing plants for your outdoor space is maintenance: how much time do you want to spend looking after your garden?
If you love to while away your weekends getting your hands dirty pruning, watering and composting, then you can fill your gardens with plants that need a little bit of TLC. By contrast, if you often find yourself too busy on the weekends to even think about picking up a hose, then stick to species that are lower maintenance.
You will also need to consider climate, light and location. The majority of plants need about four hours of natural light per day, but some thrive in full sun and others are better suited to shady, moist environments. If your area is prone to particularly cold mornings, you will also need to make sure the plants you select can withstand frost during the winter months.
The best advice on plant selection can be found at your local nursery, where staff can advise you on the best conditions to ensure your plants thrive.
Landscape design: 5 essentials for a gorgeous garden


Level up your lawn

Tiered lawn areas and large square pavers complement the modern cantilevered façade of the Chelsea display home.

Go big on the borders

Lush border shrubbery transforms the Portland display home's al fresco dining zone into a tropical oasis that can be enjoyed year-round.

Embrace curves

Curved decking plays up the rounded edges of the pool in the Oxford display home, and an oversized pot provides an interesting focal point.

Create verdant views

Consider the role your garden plays inside your home. These mature shrubs create a peaceful outlook for the bathroom in the Metford display home.

Built-in is best
Bench seating in our Mayfield display home is a practical addition that works with the relaxed Hamptons-style interiors.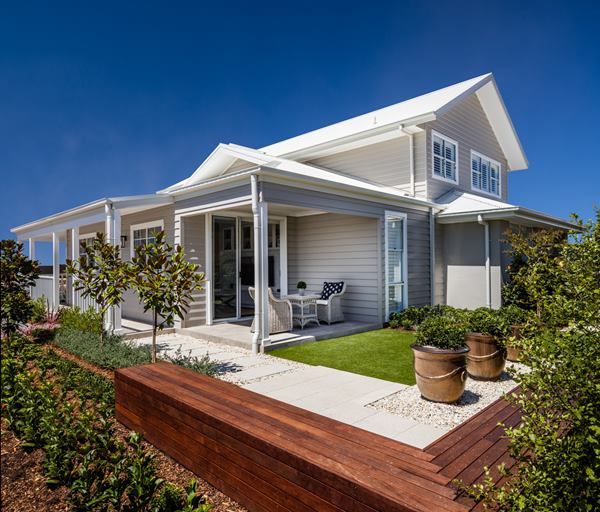 For more advice on how to landscape your new home, call 1300 223 345 and have a chat to one of Rawson Homes' design consultants.
Original story by Alice Griffin published in INHABIT.