Design tips & trends
Five ways to embrace the terrazzo trend in your home
Move over marble, terrazzo has been making its mark on home interiors for several years now and according to Rawson Homes interior design manager Julia Johnston, it's not going anywhere.
What is terrazzo?
Terrazzo is a composite material made from chips of marble, glass or stone that have been set into cement or resin, which is then polished for an ultra-smooth finish. It originated in Italy thousands of years ago as a way to reuse scrap rock and other materials, which shows the Italians were well ahead of their time when it comes to developing sustainable materials.
Why terrazzo works in your home
Terrazzo became a popular choice for flooring in the 1970s, and it's back in a big way in 2020 as an earthier, more textural continuation of the concrete-heavy, industrial look. Today's terrazzo comes in a wider variety of colours and styles to suit many interiors.
"I think terrazzo is so popular because of its versatility – you can make a statement with chunky jewel-toned terrazzo floors or go for a more subtle colour contrast and smaller chips to add texture to small surface areas like a bathroom vanity," Julia says.
"It's also extremely durable, so it's great for high-traffic areas of the home such as kitchens and bathrooms, where you're likely to get wear-and-tear."
Is terrazzo expensive?
Laid as tiles or poured directly into place, terrazzo tends to be at the pricier end of material selections, but there are terrazzo-look tiles and wallpapers available as a more budget-friendly alternative.
And if you're not quite ready to commit to terrazzo long-term, there are plenty of ways to embrace the trend through furniture and homewares.
Here are five ways to work terrazzo into your home.
Go big in the bathroom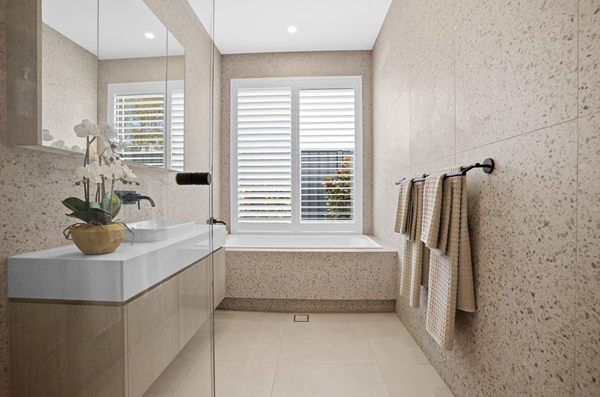 "These oversized terrazzo tiles add depth and texture to an otherwise neutral colour scheme in the bathroom of our Grace display home," Julia says. "We decided four walls weren't enough, so we continued it around the bathtub as well."
Flirt with feminine tones

https://www.instagram.com/p/B5mxbl8Dy87/

Dusky pinks have emerged as the new neutrals in interior decoration, and terrazzo is a soft and subtle way to add colour and texture to a bedroom. Try it out with a statement piece of furniture such as a chest of drawers or keep it simple with a terrazzo-topped side table.

Keep it simple on surfaces

https://www.instagram.com/p/Be87pdMhPyD/?hl=en

White stone in the kitchen will never go out of style, but a sparse fleck through the surface area adds extra depth and character. It's also easier to keep streak-free!

Work it with wood

https://www.instagram.com/p/B9I9Uu3AUHK/

Terrazzo and timber complement each other perfectly, the two vastly different textures marrying together to provide interest and dimension in a room. Look for pieces that combine the two in interesting ways. A rounded edge softens the appearance of the terrazzo tabletop, while the strong woodgrain adds warmth that will work in most living rooms.

Go green
https://www.instagram.com/p/B-ab9WMjHUN/?utm_source=ig_web_copy_link
Without a doubt the easiest and most affordable way to introduce terrazzo into your home is to grab a couple of pots in different shades and sides and cluster them together to create a focal point for a forgotten corner of the house or garden.