Design tips & trends
A Hamptons Guide: From Façade to Fit-Out
The Hamptons home design is an architectural house style inspired by a country holiday hotspot favoured by America's rich and famous.
Hamptons style homes are all about old-world charm combined with relaxed and coastal-vibe living. Designs are spacious, open and embrace indoor-outdoor flow.

Hampton design homes often include:
Two storeys
Gable-style roofs
Balconies and porches
Large windows and doors
Weatherboard-style cladding
Spacious and open interior design
Light and natural colours including white
A colour accent on trims or window frames
Ornate mansions located in The Hamptons regularly fetch multi-million dollar prices, however the style has influenced modern home design so you can now achieve coastal-style luxury at an affordable price, even though Australia is thousands of kilometers from the villages where the style first originated.
With Australians continuing to show keen interest in the iconic home style, Rawson Homes has made it possible for Australians to create a contemporary Hamptons aesthetic, from façade to fit-out. Check out our more classic Hamptons-style
Elyse
design.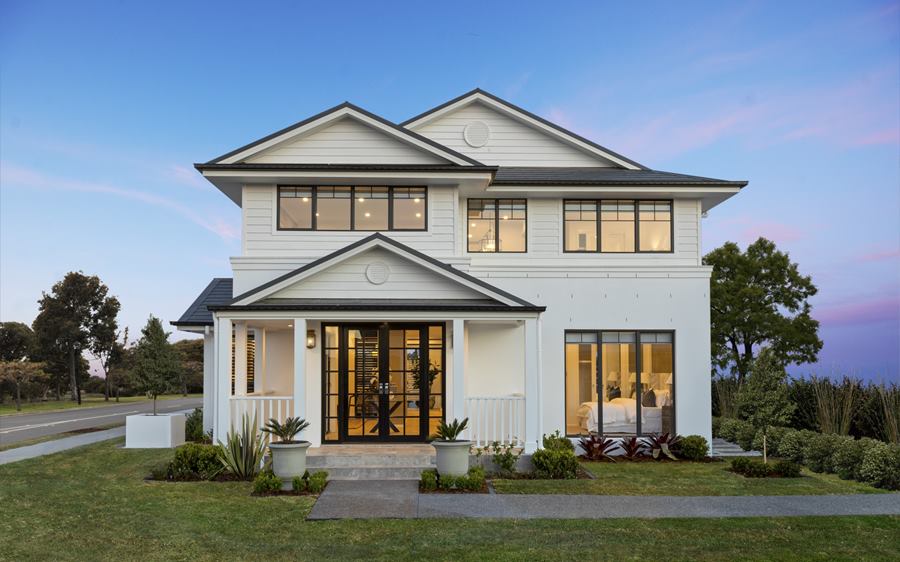 Our Elyse home design with Hampton façade.
For those looking to achieve the classic Hamptons style with ample space, our
5-bedroom designs
offer the perfect blend of elegance and functionality.
If you're seeking a more individual floorplan with Hamptons features, look at Rawson Homes' Adapt and
fully Tailored design options
.
FUN FACT 1: The Hamptons are a collection of country villages located at the easternmost end of Long Island (the same island that the Brooklyn and Queens parts of New York City are on). Given that it's only a couple of hours drive from NYC, The Hamptons sees a significant influx of holiday makers on weekends and over the summer holidays.
Exterior: First Appearances
A Hamptons façade is an elegant choice that bridges classic and coastal looks, all while offering strong street appeal. Senior Interior Designer, Nadia Fitzgerald understands why local home buyers and builders have an enduring love affair with the Hamptons home.

"I believe people are drawn to the Hamptons style vibe due to the grandness it presents," Nadia says. "The use of texture, colour and depth is what draws the eye to the grand appearance of this style of home."
When asked about specific features that are often part and parcel of a Hamptons style home, Nadia doesn't hesitate.
"A large roofline, double-hung windows and wraparound veranda – what's not to love?" she says. "A Hampton-influenced exterior design oozes sophistication while also having a homely feel."
FUN FACT 2: The villages of the Hamptons are dominated by lush trees and tall hedges which give some privacy to those living or holidaying in huge mansions all in close proximity to beautiful beaches.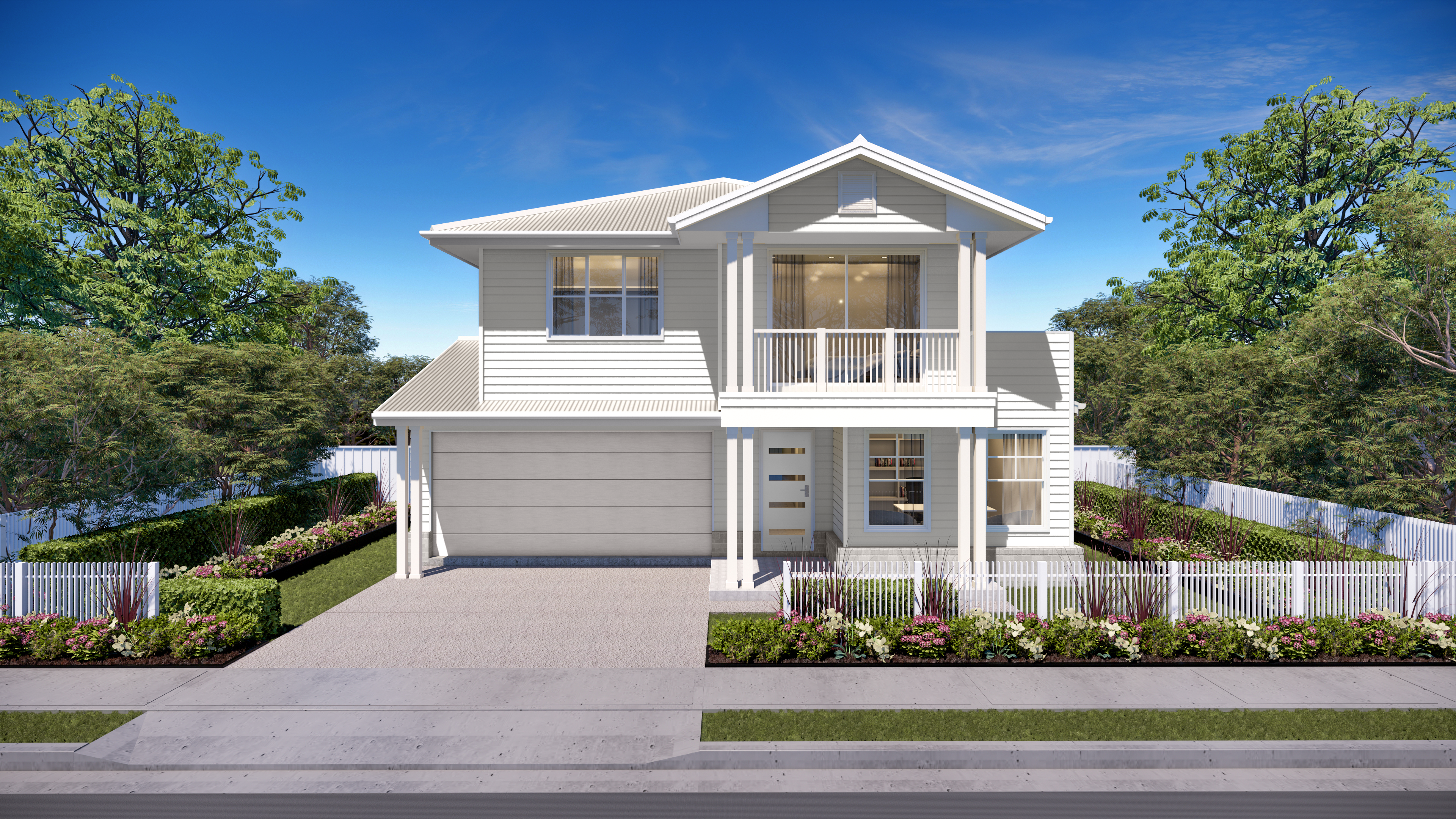 Our Brindabella home design with Light Hampton Enhanced façade.
Interior: Hamptons Hallmarks
Beyond the warm and welcoming façade, typical interior design features of the Hamptons look include white walls, wooden floorboards, marble benchtops and oversized accessories such as pendant lights.
Kitchens are generally open and often have a central bench that provides both a workspace and breakfast-bar style stool seating. Shell-shaped drawer and cabinet handles are common ways of bringing the coastal location of The Hamptons into the home.
Nadia says the versatility and adaptability of the style make it well suited to the Australian way of life.
"Australia's relaxed, comfortable, indoor-outdoor lifestyle lends itself well to this style of home," she says. "The style can be manipulated to create more than one look – from coastal to traditional, modern and more glamorous."
To see how Hamptons exterior and interior feature ideas might enhance your dream home design, explore options in our design studio to see how they both look and feel.
FUN FACT 3: 'The Hamptons' is an informal name that arose from the fact that the two larger towns at the end of the island are called East Hampton and Southampton. There are also smaller villages and hamlets called Hampton Bays, Westhampton and Bridgehampton.
Furnishings: Finishing Touches
Typical Hamptons style furnishings include comfortable and oversized furniture, often in white or light shades of grey with an added accent of colour through use of cushions and throws.
Wood and rattan are commonly used materials for furniture, with the look lending itself to large lamps and pendant-style light fittings.

Hampton style homes look their best when their spaciousness is enhanced by a lack of clutter and outdoor living spaces are valued as equally as internal rooms.
FUN FACT 4: Celebrities who have called the Hamptons home (or holiday home) include Beyonce, Gwenyth Paltrow (who grew up in the region), Jerry Seinfeld, Sarah Jessica Parker, The Kardashians and Jimmy Fallon.
Put it all together for an instant classic
Thankfully, you don't need to be rich or famous to live in a Hamptons style home.
Far from being an unaffordable style enjoyed by an exclusive few, Rawson Homes has enabled more people to live their dream by ensuring this coveted home aesthetic within reach of buyers without New York-sized cheque books.

One positive of a Hamptons style home is that its timeless quality means it's not going to go out of fashion anytime soon.
This fits perfectly with Nadia's advice to avoid home design fads that lose appeal quickly. "Opt for a timeless style that's guaranteed to remain in vogue for decades to come," she says.
"Over the years, I have discussed this look with clients of all ages and lifestyles," says Nadia. "One of the greatest benefits of this style of home is that you're not going to build something that will date."
It's no wonder that everyone from young first homebuyers to retiring downsizers show interest in a Hamptons-style home. Trends may come and go but the combination of elegance and relaxation means that a Hamptons home never goes out of style.
If you love chic-meets-coastal design, check out our Hamptons style homes at a Rawson Homes display location this weekend!
FAQs
What are the defining characteristics of an Australian Hamptons style façade?
While taking influence from coastal mansions that dominate the Long Island villages known as The Hamptons, Australians are able to adapt features to make the most of our region's weather and lifestyle. Timber shingle roofs, while popular in the US, are not appropriate for Australia's intense sunshine and the common multi-paned windows found overseas are usually replaced with larger-paned windows for better light and breeze.
What colour palette is typically used in a Hamptons design?
Hampton-style houses are influenced by the coastal location of The Hamptons. White is often a dominant colour as well as light shades of grey. Accent colours can be a contrasting black or dark grey, while other Hampton-style homes make use of sea-influenced colours like greens and blues.
Are there regional variations of the Australian Hamptons façade?
Australian builders have done a great job at taking the essence of a Hamptons-style façade and adapting it for local conditions and materials. One feature common to Australian Hampton-style homes is the use of large windows to allow for light and airflow as well as clever ways of creating a flow between indoor and outdoor al fresco living spaces.
What are the best materials to use for Hamptons style façade?
Weatherboard cladding is a traditional element of a Hamptons style home. These can be used in conjunction with cement cladding, white bricks and render to both evoke the classic Hamptons style and make your home suitable for the Australian climate.
View all Design Tips & Trends Articles >