The home building process
Everything you need to know about knockdown rebuild
If you love your location, but not the house on it, a knockdown rebuild could be the best way to create the home of your dreams. We've answered some of the most frequently asked questions about knockdown rebuild projects, with the help of a couple of very happy Rawson Homes customers.
What are the benefits of a knockdown rebuild?
Renovate or detonate? It's a question facing many people who love where they live but want to upgrade their home that suits their lifestyle.
Knockdown rebuilds have been rising in popularity year-on-year, according to the Housing Industry Association and with property prices falling and renovation costs on the up, staying put and starting afresh is becoming an increasingly attractive prospect.
The greatest benefit of a knockdown rebuild is that you can stay in the same location, close to the schools and amenities you love, but live in a brand-new home equipped with all the bells and whistles you could possibly want.
Starting from scratch means you're not confined to the footprint of the existing home, as with a renovation, so you won't have to compromise on any features and there are fewer nasty surprises when it comes time to start construction. It's not uncommon to uncover asbestos, shoddy foundations or dodgy plumbing when undertaking a renovation or extension, but with a knockdown rebuild, it's a blank slate.
In the longer term, a new home in an established suburb should have a higher rate of appreciation – something to consider for resale or renting the property out.
Kaylene and Tony live in Portland, New South Wales, about 2.5 hours west of Sydney, with Anakin, their Alaskan Malamute. In 2018, they knocked down their old miner's shack and rebuilt with Rawson Homes and say it was one of the best decisions they've made.
"We went from a 13-square [m] house to this 26-square [m] home," Tony says. "This house has made a huge difference to our lives. I still have to pinch myself."
How much does it cost to knockdown and rebuild?
The cost of your knockdown rebuild will, of course, depend on the design of the home, as well as site location and conditions that can affect construction.
There's also the cost of demolition, which can vary depending on site access, proximity of surrounding homes or buildings, slope and site conditions and the location of services and connections. Rawson Homes can manage the demolition process for you, or you can arrange it yourself through a qualified demolition expert. Find out more about Rawson Homes demolition process here.
Despite all these variables, we make sure our customers have complete peace of mind by providing a detailed tender that includes provisional allowances for any items that may be conditional upon final house plan drawings, engineer reports and soil tests.
We also go through everything in detail, so there are no surprises.
What is the knockdown rebuild process?
Our experience in knockdown rebuild projects means we've been able to fine tune the process to make it as simple as possible.
Research the regulations

Before you start plans to knock down your existing home, it's essential to check with your council to make sure the project complies with local planning laws. Some councils impose strict rules that prevent the demolition of heritage-listed homes, others have regulations around overlays and local character that may impact the design of your new home. That's why your first call should be to your local council's building and planning department to find out what you can and can't do.

Select your home design

This is where we work closely with you to find the right home design to suit your needs.

"Spend plenty of time in the display home so you can get a feel for it," Kaylene advises. "Sit on the lounge, pretend that you live there. We were in there for two hours."

Once you've decided on a design, we undertake a comprehensive assessment of your block so we can provide you with an accurate all-inclusive tender price.

Drawings and contract

Our Rawson colour specialists will help you choose your exterior selections, and then we'll draw up a detailed plan of the design and the façade of your home. We'll help you work through all the necessary permits and paperwork required and draw up a contract for you to sign. Once you pay the deposit, we'll be on our way to building your dream home.

Selections and approval

Here, we submit all the required paperwork to council for approval. You'll also visit our design studios and meet with our colour consultants to decide on the colour selections, interior design features and finishes, to put your personal stamp on the final design.

Construction

Now we can start the build. Your slab will go down and your new home will begin to take shape. A site manager will keep you informed throughout the whole process, answering any questions you may have along the way.

Handover
The moment you've been waiting for!

Once construction is completed, we'll conduct a walk-through inspection with you and then hand over the keys. After three months, our warranty manager will also come back to make sure everything is as it should be.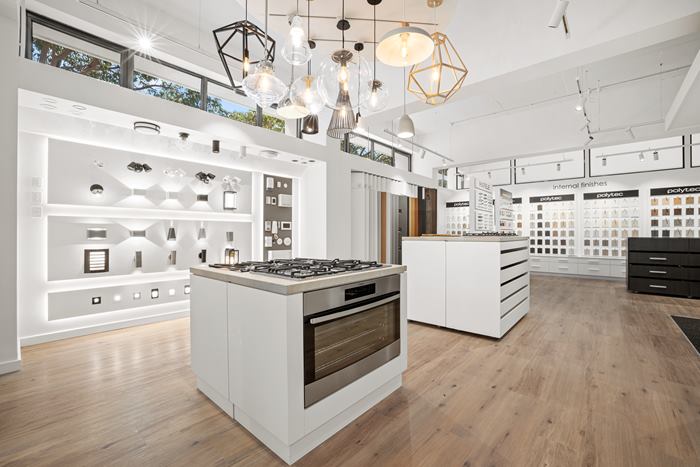 How long does a knockdown rebuild project take?
The exact timeline of the knockdown rebuild process will depend on a couple of factors.
Any new home must comply with the local council's planning regulations, and there may be design or heritage considerations to contend with. The size and complexity of the design, as well as things like demolition, site challenges and adverse weather conditions can also impact the duration of construction.
"Our home was built within the standard-build timeframe," Kaylene says.
"Tony was in hospital during the build, and the Rawson Homes team were so caring, always checking in with me. When Tony got out of the hospital, he'd sit in the paddock opposite to the watch the construction. It really helped with his healing process."
Can I make changes to the design of the house?
Not only do you get to choose from more than 150 award-winning single and double-storey homes, you can customise the floorplan, fixtures and finishes to suit the way you and your family live.
Kaylene says choosing their home design was "easier than picking out my wedding dress".
"We instantly knew the Clifton 26 home was for us, and the Rawson Homes colour consultants helped with the interiors," she says. "I love everything about it from the front door to the back windows."
The couple also made a couple of floorplan changes to make the design their own.
"We took a non-structural wall down between the study and the bedroom, which the Rawson Homes team were able to accommodate," Tony says.
To find out more about knockdown rebuild, visit
Rawson Homes' knockdown rebuild guide
or call 1300 223 345.