The home building process
Our Rawson Home - Glenn and Penton
Tragedy decided to turn around the lives of devoted Newcastle couple Glenn and Penton in the form of a devastating storm that totally destroyed the 111-year-old home they had fully restored with pride, along with everything in it. Penton isn't exaggerating when he describes it as, "A horrendous experience – very sad," adding, "Now you've got my eyes watery," more than understandable seeing as it had been Penton's grandfather's home.
But sometimes even the darkest clouds truly do have a silver lining, with the buoyant duo turning to Rawson with a vision. As Glenn explains, "We took this opportunity to build the home that we really wanted." Further than just bricks and mortar, though, "We were actually able to create basically a new life for us. It was actually like winning Lotto."
And looking across the pool vista while the guys enjoy an afternoon beverage in the sun, and the views of the lush waterway next-door from the expansive window by the wide, inviting bathtub, you can understand this vision.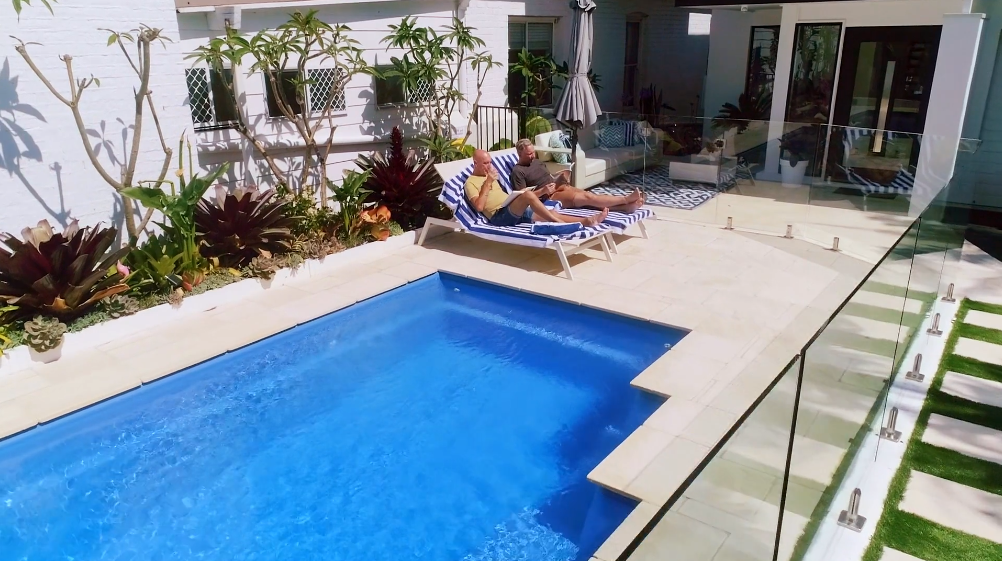 Of course, as in any life-changing project, there was a domino chain of logistics to tackle – but with a future concept in mind and working as a team, these all proved to be larger obstacles mentally than in reality.
"Glenn went looking for a home that would fit our narrow, long block and Rawson Homes was able to accommodate that," Penton explains.
Glenn has no problem sharing the acclaim with getting the project rolling. "Everyone asks who was our architect and designer," he says with a sly grin. "We have the greatest pleasure of saying it's a Rawson home. It's an amazing house.
"The home we have is actually the Rawson Edge. We've probably named it the Rawson Glenn and Penton. Because it's our home. It is amazing," he says of what he also calls their "sanctuary".
"What we actually ended up doing was turning the kitchen onto the other side and that allowed us to look at our amazing view that we have," Glenn explains with pleasure. "And upstairs we turned the back to the front.
"With Rawson, they just never said no. They just said sure, we can help you and made everything happen."