The home building process
A complete guide to visiting a display home
Words by Kate Stanton
|
Article produced in conjunction with Domain.com.au
Much like shopping for new clothes or test-driving a new car, it pays to try before you buy. Display homes are a great way to see if a home and its builder will suit your family.
"Building a home is one of the biggest investments you're ever going to make, a display home visit will give you an idea of what you like, plus a touch and a feel of what you're going to get, " says Jess Grima, a customer experience team leader for builder Rawson Homes.
The company has more than 30 display homes in five different regions, including new sites in Leppington in Sydney's south west and Warnervale on the NSW Central Coast.
"There's something about walking into a display home and thinking 'I could see my family here'," she says.
Shopping for a house can be fun and exciting, but the experience can also leave you feeling tired and overwhelmed. We've asked experts for their tips on making the best of display home visits.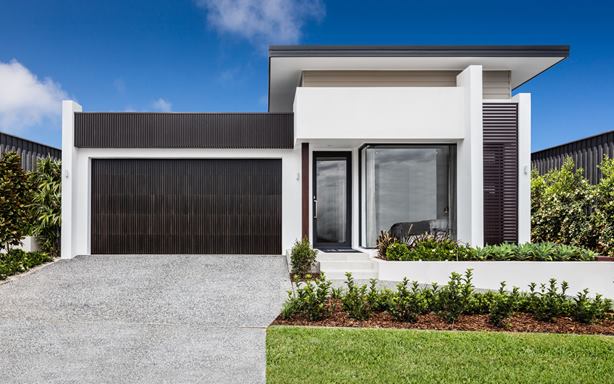 Rawson Homes want their display homes to be strong indicators of what you are going to get: building a home is an investment not to be taken lightly. Image: Evoke 23 MKII on display at HomeWorld Leppington
Be clear about your needs
You need to know what you're looking for and what you can afford, so get clear on your budget, time frame and land size.
Sit down with your family first and talk about what you are looking for in a home. Do you want a single-storey or multi-level home? How long are you planning on living in it?
"Do most of your research during the first round of visits," says Grima. "Then when you've narrowed it down, go back again to really work out you really want."
Do your research
Gather as much information as you can before you start visiting display homes. Look up builders online and learn about their most popular home designs. Follow their social media accounts and check each company's online presence – what do previous clients say about their products? Also discover what goes into the building process so you know what to expect.
It's always a good idea to start a dialogue with the builder or sales consultant before you visit a display home. If they can answer as many questions as possible before the visit, you can spend more time examining the home in detail.
"You don't want to spend the whole time talking to the sales consultant and not taking everything in," says Frank Valentic, director of Advantage Property Consulting.
"Save your time for more detailed questions about things that come up when you're there."
Plan your visit
When you're ready to visit a display home in person, make sure you bring a list of questions you have about the design. It's also helpful to print out your own copies of the floor plan, as these are good for note-taking, as well as keeping track of the homes you plan to see.
"Floor plans help you navigate the property and look at ways you might modify it to suit you better," says Valentic.
Though you might be shopping around and inspecting different designs, limit your search to a few display homes in one area at a time, with breaks for coffee or lunch in between. If you try to see too many in one stretch, you'll be too tired and hungry to examine them closely.
It's all in the details
When you speak to a consultant, make sure to confirm and document what's included in the price of a home and what's not.
"It's common for builders to keep landscaping, the driveway, window furnishings or light fittings out of the quote," Valentic says.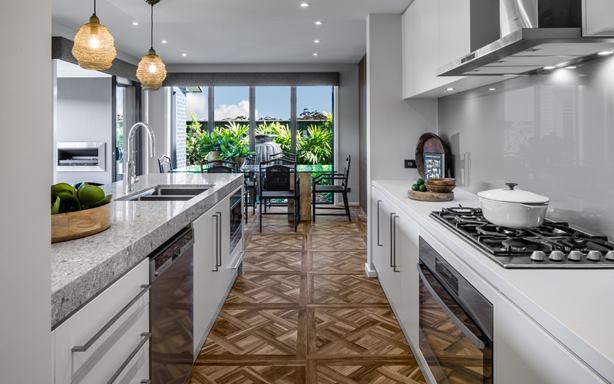 Make sure that you are across the quote from the builders before signing a contract. Image: Balmoral 35 MKI on display at HomeWorld Leppington
Grima says it pays to "check, and then double check" what builders are promising in a quote and eventually a contract.
"Always read the terms and conditions," she says. "Compare what each builder offers, if they come in at a similar price, take a look at the quality of the products they use and review what is included with the build."
Bring the whole family
"Bring your kids so they can look at it from their perspective," says Valentic, whose own children once rejected a home because there wasn't space for them to play cricket.
"If they're not going to enjoy the house, then it's better you know about it before you buy it."
Wait until you have shortlisted your favourite display homes before asking family members to help you choose.
"It's a journey, but a great one," says Grima. "We get customers who come back a dozen times, who bring everyone in their family. Their grandparents – everyone. It's a great experience."
See all of our display home locations and contact us for more information today.