Design tips & trends
How to design a façade for your home
We all know that first impressions count, which is why choosing a façade is one of the most important design decisions you'll make on your new home journey.
Aside from providing a warm welcome home at the end of each day, the façade sets the tone for the rest of the house, and will help define the interior layout, design and decor. Experts say that an attractive façade can also substantially increase the resale value of your house – after all, everybody is guilty of judging a book by its cover.
There are many factors to consider when designing a façade for your home, including the architectural style, colour scheme, materials, features, lighting and landscaping, as well as the style of homes in your surrounding area. The key is to achieve the right balance of elements to create a picture that represents how you live.
1. Architectural style and location
Start by familiarising yourself with the key features of different architectural styles and what you like about them. Do you prefer the boxy, modular shape of a modern design or the character and gabled roofline of Hamptons style? Clean and contemporary or heritage-inspired classic?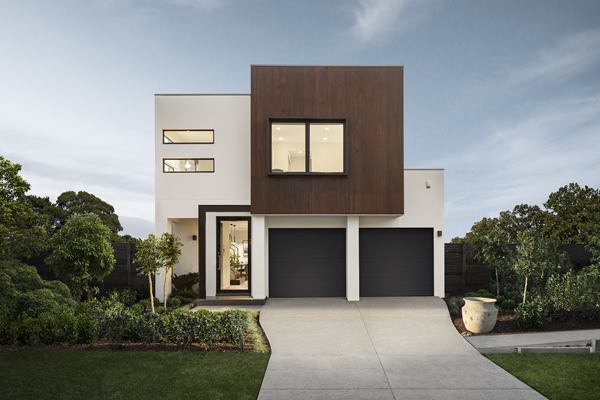 Rawson Homes has more than 60 one- and two-storey home designs, each with different façades to choose from, so deciding on the style that best suits your personal taste will help to narrow down your options from the outset.
It's also important to consider the location of your home. If you're building in an area with a lot of period houses, a modernist façade may look out of place in the streetscape. The local council may also have restrictions around overlays and neighbourhood character, which is why your first call should be to your local building and planning department to find out what you can and can't build.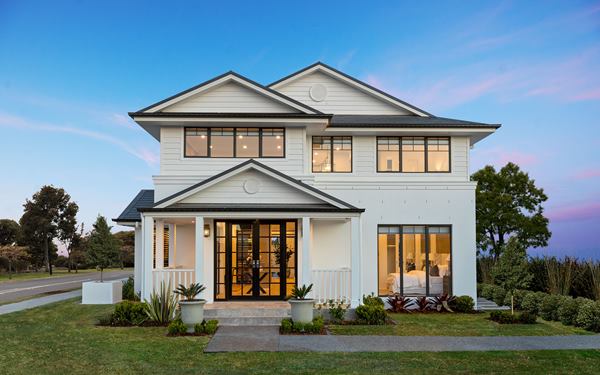 2. Materials selection
Once you have chosen a design for the façade, it's time to decide which materials will work best to bring it to life.
Some architectural styles call for specific materials, for example, the Hamptons look is centred on our love of the weatherboard look. James Hardie's Linea™ Weatherboards are the perfect finishing touch for both the classic or contemporary Hamptons home. Made from durable fibre cement, James Hardie weatherboards not only deliver a luxurious look, but one that resists warping, termites and damage from moisture.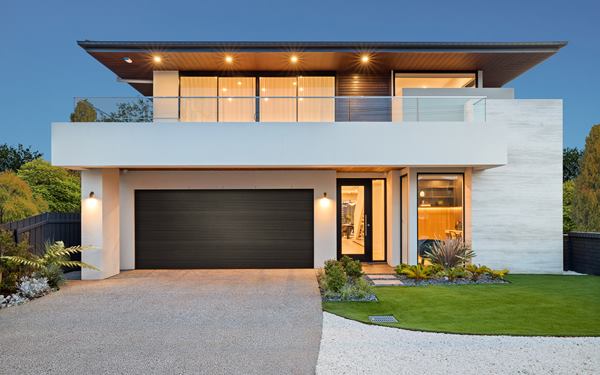 Bricks are a hardworking, versatile and affordable building material that will add depth and complexity, while render is another low-maintenance option that pairs well with timber or stone as an accent. Timber cladding is particularly popular for Hamptons and contemporary-style homes and can work in suburbs with a strong heritage character. There's also the roof to consider. Rawson Homes offers CSR Monier Horizon concrete tiles or Colorbond metal roofing in a range of colours and profiles.
Keep in mind how your materials choices will tie in with the driveway, fencing and landscaping – all these elements should work together to create a harmonious picture of the exterior of your home.
Visit different display homes or take a drive around your neighbourhood for inspiration, but don't be afraid to try something different and make your façade stand out from the crowd.
3. Colour scheme
In most cases, an exterior colour scheme should include three shades: a dominant field colour, an accent colour and a trim colour for window and door frames and gutters. You could stick with neutrals from the same colour family, or opt for a bold contrast, such as charcoal with a white trim, just make sure you consider the natural textures of the materials you've selected, such as timber, stone and brick.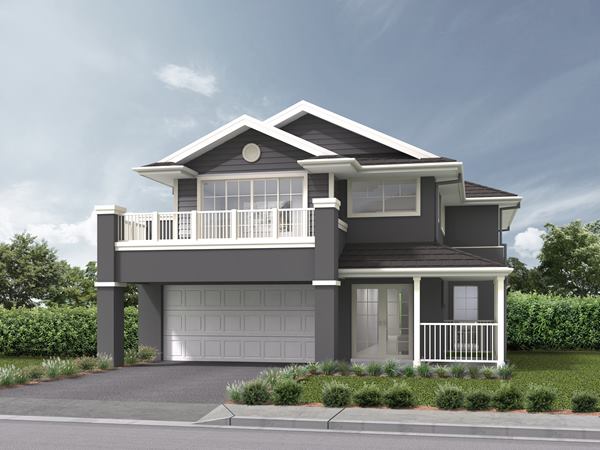 Consider injecting a bit of personality with a brightly coloured front door, such as in canary yellow or burgundy red. Think of it as jewellery for your house – it can be a little flashier than the rest of the façade.
Choosing a colour scheme can leave even the most seasoned home builders feeling overwhelmed, which is why Rawson Homes has a team of colour consultants who are experts in eggshell, ecru and every shade in between.
4. Lighting and landscaping
While not technically part of the façade of the house, lighting and landscaping will complete the exterior of your home and help you achieve that all-important curb side appeal.
Consider adding soft, ambient lights to feature walls and pillars, and line pathways with stylish bollard or deck lighting.
When it comes to choosing a landscape design for your front yard, go for a mix of grass, plants, tiles, rocks or pebbles to give your garden sophistication, and add life and colour through plants and shrubs.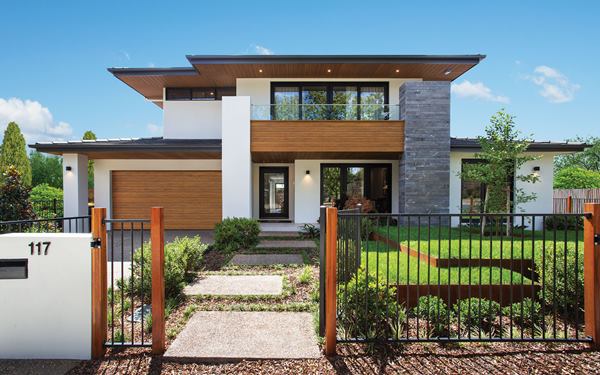 Plant selection comes down to maintenance – how much time do you want to spend in your garden? If you love to while away your weekends getting your hands dirty pruning, watering and composting, then you can fill your gardens with plants that need a bit of TLC. By contrast, if you often find yourself too busy on the weekends to even think about picking up a hose, then stick to species that don't need too much attention, like succulents or natives.
For more tips and advice on choosing a façade for your home, check out Rawson Homes' range of home designs online or call 1300 223 345.