Reimagine.Rebuild
Where to splurge and save in your new kitchen
They say the kitchen is the heart of the home, but it's also a major selling point when it comes time to put your property on the market.
That's why it's important to get your kitchen fit out right from the outset, and know when to invest and when to save when designing this important space.
Well-loved and popular kitchen design features to invest in include stone benchtops, high-end appliances and smart storage solutions, but there are also plenty of practical ways to save and ensure your budget goes the distance.
Here, we look at Rawson Homes' Custom Collections – three value-orientated upgrade packages – to help you decide where to splurge and where to save in your beautiful new kitchen.
Splurge: appliances
Premium kitchen appliances will always hold their value, which is why this is definitely one aspect of your kitchen worth splurging on. Smeg appliances are famous for combining sophisticated style with innovative functionality, which makes them a perfect addition to our kitchens. Rawson Homes' Classic Collection features a 60-centimetre Smeg oven, cooktop (gas or ceramic) and rangehood, while our Luxury and Prestige packages also include a Smeg microwave and dishwasher, with the option to upgrade to 90-centimetre cooking appliances. Find out more here.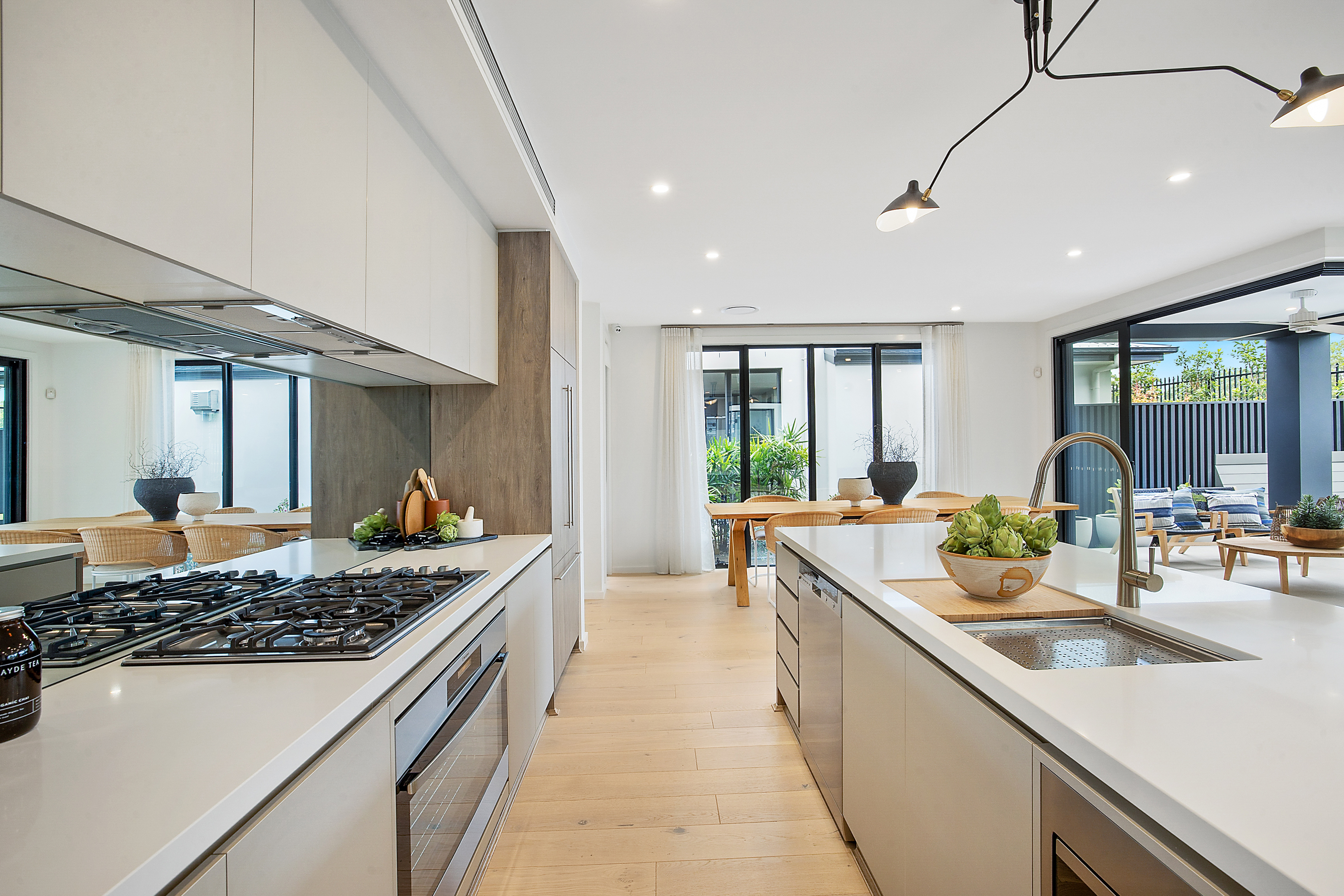 Splurge: Storage solutions
Practical storage solutions in the kitchen are worth spending money on as they guarantee you have a home for all your kitchen accessories and big-ticket items. If you're a MasterChef in the making or love baking simple treats, you'll no doubt have a plethora of utensils and cookware to store. Two pot drawers – one bank of two, or two banks containing two drawers – are included in our Prestige Collection upgrade and will make storing these kinds of kitchen essentials easier than ever.
Read next: Five ways to embrace colour in your kitchen
Save: Cabinetry
Kitchen designs on a budget often call out cabinetry as one feature to save on. Laminate cabinetry works a charm both in practicality and functionality and still looks great, too. This style of cabinetry is also far more cost-effective than other bespoke and custom designs that use high-end materials.
Splurge: Stone benchtops
If there's one design feature that elevates a kitchen to the next level, it's a Caesarstone benchtop. They're functional, beautiful and timeless. Rawson Homes offers two upgrade choices featuring a Caesarstone benchtop. The Luxury Collection includes a 20mm Caesarstone benchtop from the standard range, while the Prestige Collection includes a 40-millimetre Caesarstone benchtop with waterfall ends from the deluxe range. Choices, choices!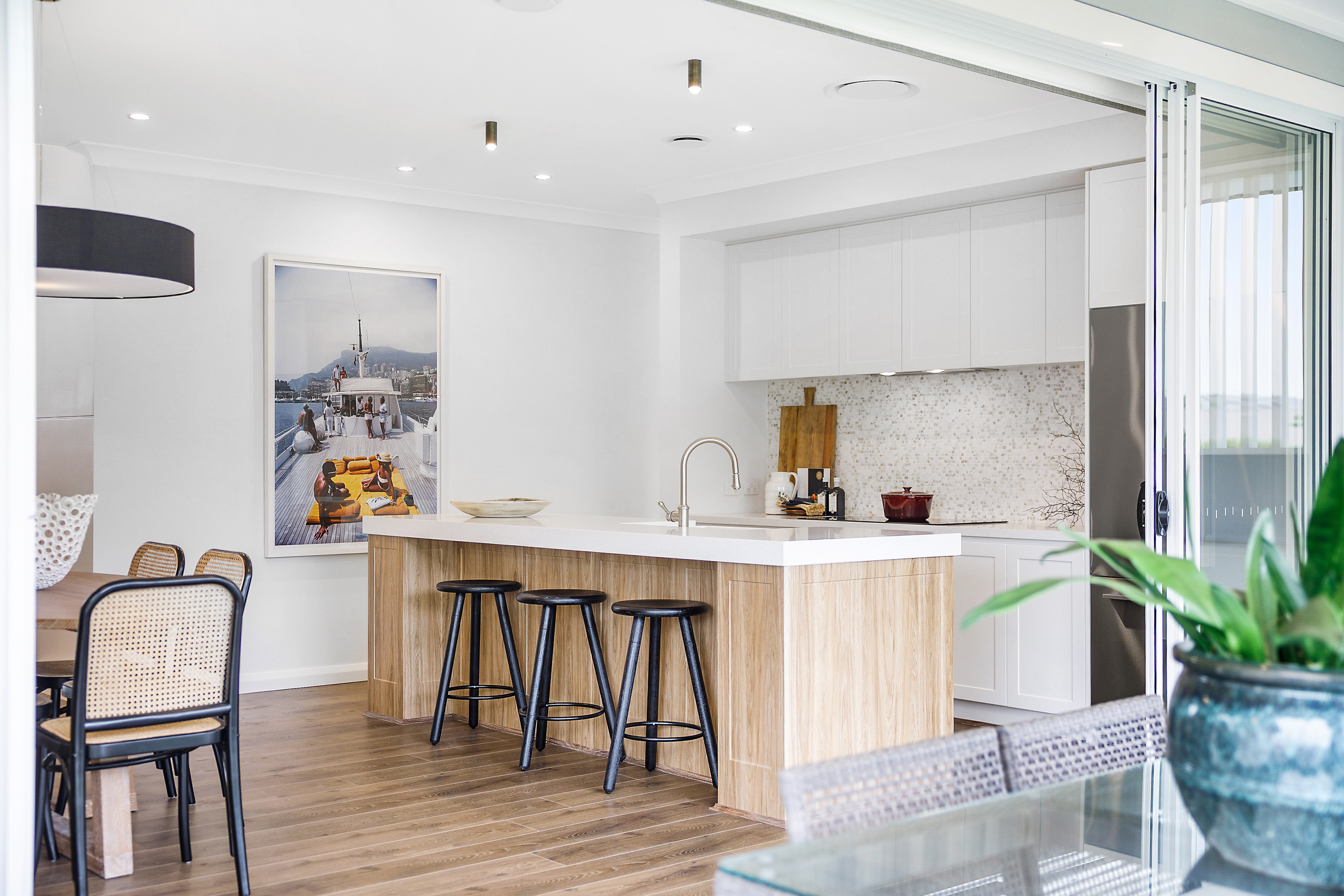 Save or splurge: Tapware
Tapware is a stylistic element that you can have fun with while embracing trends, however all tapware serves an important function. Each of Rawson Homes' three Custom Collection packages include high-quality tapware, with the top-of-the-range Prestige Collection featuring a Methven Culinary, Gaston Culinary or Liano Nexus sink mixer in black or chrome.
Save or splurge: Splashbacks
Long dismissed as a practical necessity to protect walls from spills and splatters, the splashback has seen its status skyrocket as a statement piece that can set the tone for your entire kitchen. When it comes to deciding on a material for your kitchen splashback, budget will be a huge factor – tiles and glass are great for those looking for a low-cost option that looks great, while natural stone will set you back considerably more but could be well worth the investment down the line.
If you still can't quite decide on where to splurge or save in your kitchen, visit one of Rawson Homes' Design Studios in Sydney, Camden and Shellharbour to find the right Custom Collection package for you. Here you'll be able to explore the latest trends, products and finishes and see which features you just can't live without in your kitchen.