Reimagine.Rebuild
Transforming a rundown property into a dream home
"Every weekend everyone turns up at our place," says Mirella Gordon. "We'll have 10 teenagers in our house on a Saturday night."
Article produced in conjunction with Domain.com.au
Gordon, who lives in Sydney's north-western suburbs with her husband and two teenage children, prides herself on having the kind of home that brings everyone together.
But the size and layout of the Gordons' former home didn't suit their busy, sociable lifestyle.
When the couple married in 2000, they bought a modest, brick veneer house built in the '80s. It was difficult to navigate and too cramped for entertaining.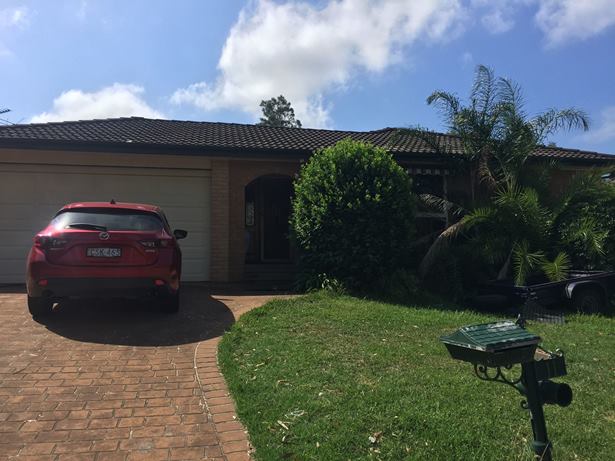 The Gordon's house before the knockdown rebuild. Image: Supplied

"We're opposite a park and we live in a cul-de-sac. It's really central to everything in terms of school, work, our friends and family.
"The idea of getting the house that we wanted and being able to stay where we are is the thing that really drove us to make the decision to knockdown and rebuild."
With a huge network of extended family and friends, as well as teenagers who wanted space of their own, Mirella knew she needed a new house to accommodate them. They also wanted a downstairs bedroom and en suite where grandparents could live if necessary.
After an exhaustive search, the Gordons chose Rawson Homes, a builder that offers customised new homes with knockdown-rebuild services and house and land packages in new estates.
Established by three brothers in Dubbo in 1978, Rawson Homes now services regions around New South Wales and the ACT.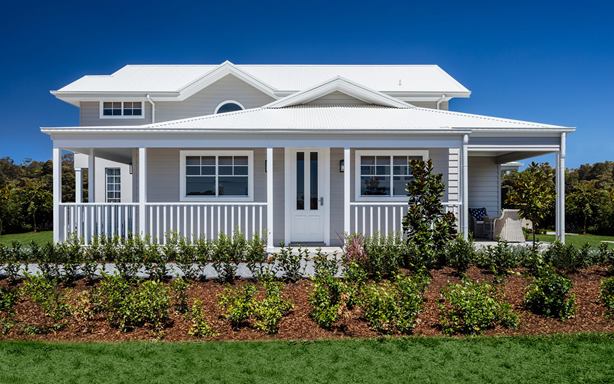 Rawson Homes' designs includes this Hamptons-themed house

"Rawson had the finishes we liked, and their design just suited us a lot more. And they were extremely flexible from the start," Mirella says. "We just loved their houses."
The family chose the model Seaview 36, which offers large family living areas that connect to the outdoor terrace through large sliding doors. It includes a formal lounge, rumpus room, butler's pantry and an upstairs retreat for the kids. Demolition on their old house started in January 2017.
Rawson Homes site manager Glenn Barnes, who oversaw construction, says the Gordons' choice was a popular one.
"It's quite a grand-style home. But they did have a decently sized block, so it was well suited to them."
Barnes says communication with his homeowners is vital to the knock-down rebuild process.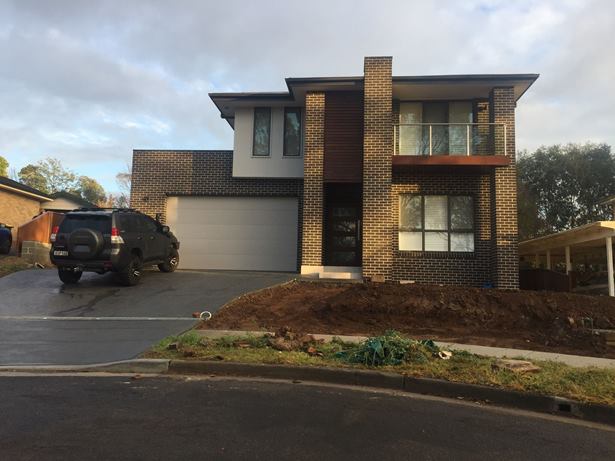 The Gordon's house after the rebuild has more space for their sociable lives. Image: Supplied

He showed the Gordons through their home as it progressed, and spoke to them regularly via phone call and text.
"It's a pretty major step for them, especially on a knockdown-rebuild, because it's already their land," he says. "And the timeline is always important. You want them to get into the house so they can get a move on with their lives.
"I'm always proud of the houses I hand over," he adds. "I like to give them a house as I would expect to live in it."
The Gordons finally moved into their new home in autumn of 2018, and the family is looking forward to their first summer in the space.
"I love my kitchen," Mirella says. "It's a joy to cook in and a great place for people to gather when they come over.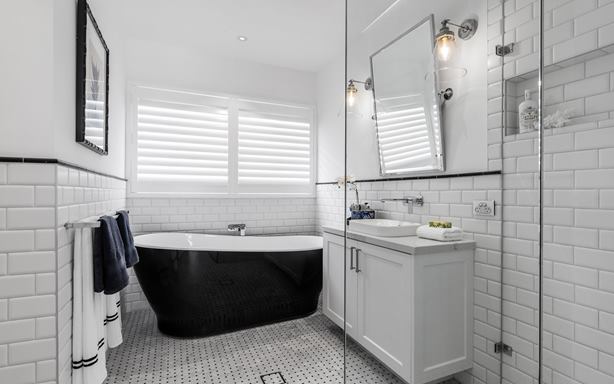 A Rawson Homes bathroom design.

"And the kids absolutely love having all their friends over in their new space upstairs.
"In our bedroom we have an amazing en suite with one of those beautiful standalone baths. I've made it my ritual to have a Friday night bath every week."
Mirella says she would tell other couples planning to build to do their research, but to be excited about building a home that's right for you and your family.
"Ask questions, and take your time figuring out what you want and what you don't want.
"It's a long-term decision, and having the right builder help you is so much easier than trying to do it all yourself."
Discover more about Rawson Homes' Knockdown and Rebuild solutions