Reimagine.Rebuild
Building a duplex: Your questions answered
Duplexes are fast becoming an affordable housing option for families, first home buyers and investors, but they can also be doubly overwhelming. We spoke to three experts to find out everything you need to know about duplex homes.
First, what is a duplex home?
A duplex is a residential building with two dwellings sharing a common central wall on a single block of land. Each side is a separate home with its own entrance, amenities and yard.
Also known as dual occupancy, duplexes are increasing in popularity as homeowners and investors realise the financial appeal of a double house combined with the aesthetic and liveable features of a standalone dwelling.
"Duplexes aren't what they used to be," says Rawson Homes' general manager Peter Slominski. "They were small and cramped dwellings but have since changed dramatically. Today, if you walked into a duplex, they would feel like standalone homes with bright and open living spaces."
Why are duplexes a good investment?
Duplexes are a smart financial move for first home buyers, families and investors alike.
"Let's say your parents want to downsize because they can't mow their lawns or maintain their property anymore – a duplex is a fantastic solution," Peter says. "By dividing the space into a downsized two-bedroom dwelling on one side for them and a five-bedroom residence on the other side for your family, you could have your parents living next door and still enjoy your privacy."
Building a duplex might be slightly more expensive than building a standalone house, but it's cheaper than building two houses, and the land costs are reduced because both dwellings are on the same block.
This is a great opportunity for first home buyers to supplement their mortgage with a rental income, or for investors to double their return or rental yield with one asset.
What are the most important things to consider when designing a duplex?
"By treating each side as a standalone residence, our duplex home designs are crafted to cater to individual needs," Peter says. "Think large family rooms, open kitchens, spacious bedrooms coupled with loads of natural lighting and air flow."
Ground floor amenities and stairs are positioned in the middle or at the front of the home, which allows ample room at the rear to accommodate an open plan living and dining zone that opens out to a spacious al fresco entertaining area. Windows are strategically positioned to allow plenty of natural light and ventilation through the entire house and the flexible second-storey layout allows for a spacious master suite and up to four bedrooms or three plus a second lounge area.
Curb-side appeal is also important, as Rawson Homes' operations manager Robert Gullo explains."Our goal is to immediately eliminate any misconception that duplex homes are too enclosed. We've achieved this by adopting generous entries to instantly set the home's overall theme of bright and open spaces."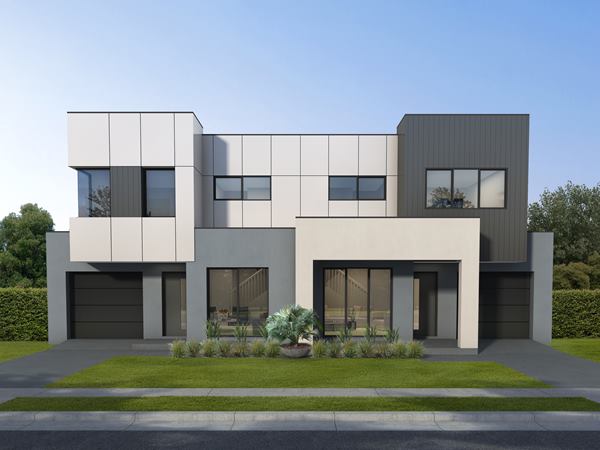 Does sharing a wall between dwellings mean no privacy?
Privacy and sound insulation are key features in all Rawson Homes and duplexes, so you don't have to worry about hearing what your neighbours are watching on Netflix. "The party wall system we've adopted is compliant with the National Construction Code and helps achieve the designed acoustic level," Robert says. You can also upgrade your wall insulation and linings for enhanced sound proofing.
Can I decorate duplex homes in different styles?
When it comes to interior design of a duplex home, it's important to think of each dwelling as having its own personality, particularly if you're planning to live in one and rent out the other. Interior stylist and author of decorating bibles Home and Keeping House Emma Blomfield says decorating a space for tenants can be tricky, but a flexible open floorplan and sticking to neutral colour schemes will hold broad appeal.
"Plan all the elements such as floor plan layout, furniture placement, right down to colour palette decisions for each room. That will then help significantly when it comes time to purchased furniture for the space – you'll know the dimensions you're working with," she says.
To find out whether a duplex home is right for you or to view our duplex home designs, visit call us at 1300 223 345 or visit rawsonhomes.com.au/duplex