Design tips & trends
Butler's pantry ideas: A versatile space for entertaining and storage
A butler's pantry is a small room that's easily accessible from the kitchen but is largely hidden from the dining or living areas of the house. The idea is that meals and drinks can be prepared out-of-sight of guests or where you are eating.

Let's delve into the history of these rooms and then how they can fit into a modern-day home.
A brief history of the butler's pantry
The idea of a butler's pantry originated in homes that employed staff like housekeepers and maids. Butlers, who were generally men, were often the most senior of the servants so they supervised other staff as well as being responsible for tasks like greeting guests, cleaning shoes and locking up the house at night.

The butler's pantry is named after their other major role, which was making arrangements for entertaining and looking after the all-important wine cellar. And, often, this space was used to store the valuable items used in food service, like silver cutlery, candlesticks and the fine-china. Because the room was separate to the rest of the kitchen, this allowed it to be locked. Sources report that some butlers even slept in their pantry!

If you're still feeling a bit in awe at the idea of having a dedicated room in addition to the kitchen for food, you might like to know that the alternative name for a butler's pantry was a 'scullery'. Doesn't sound quite as luxe now, does it?
Can I have a butler's pantry if I don't have a butler?
Nowadays, most of us can only dream about having employees to prepare for guests and make our meals (though if you have a cleaner or home-help, they'll love working for you).
But we don't have to dream about having a butler's pantry. These spaces have been modernised to fit in perfectly with your dream home and are a
kitchen trend that's definitely on the rise
. They're ideal for anyone who feels their kitchen is overworked, needs more storage-space, or simply prefers not to have their cooking-mess or dirty-dishes on display.
What does a butler's pantry look like?
A butler's pantry is a self-contained room that's adjacent (that means 'next-door-to') the kitchen. Or, just to be a little confusing, sometimes it's next to the dining room instead.

Traditionally butler's pantries had doors and even locks (remember the butler sleeping in there to protect the silverware?) but these days there might be a full door, a swinging door or simply an open entrance-way, perhaps hidden behind a wall.

Try searching online for images of butler's pantry ideas and you'll be amazed! The most luxurious ones are bigger than many actual kitchens and the butler pantry layout can contain all manner of shelving, cupboards and bench tops (pop a fold-out bed in there and, hey, maybe we wouldn't mind sleeping there!).

Some butler's pantries simply have storage space and bench-tops whereas others include a sink, a dishwasher, a mini- or wine-fridge, appliances (either permanently on the bench for frequent use or stored for easy access) and even an oven.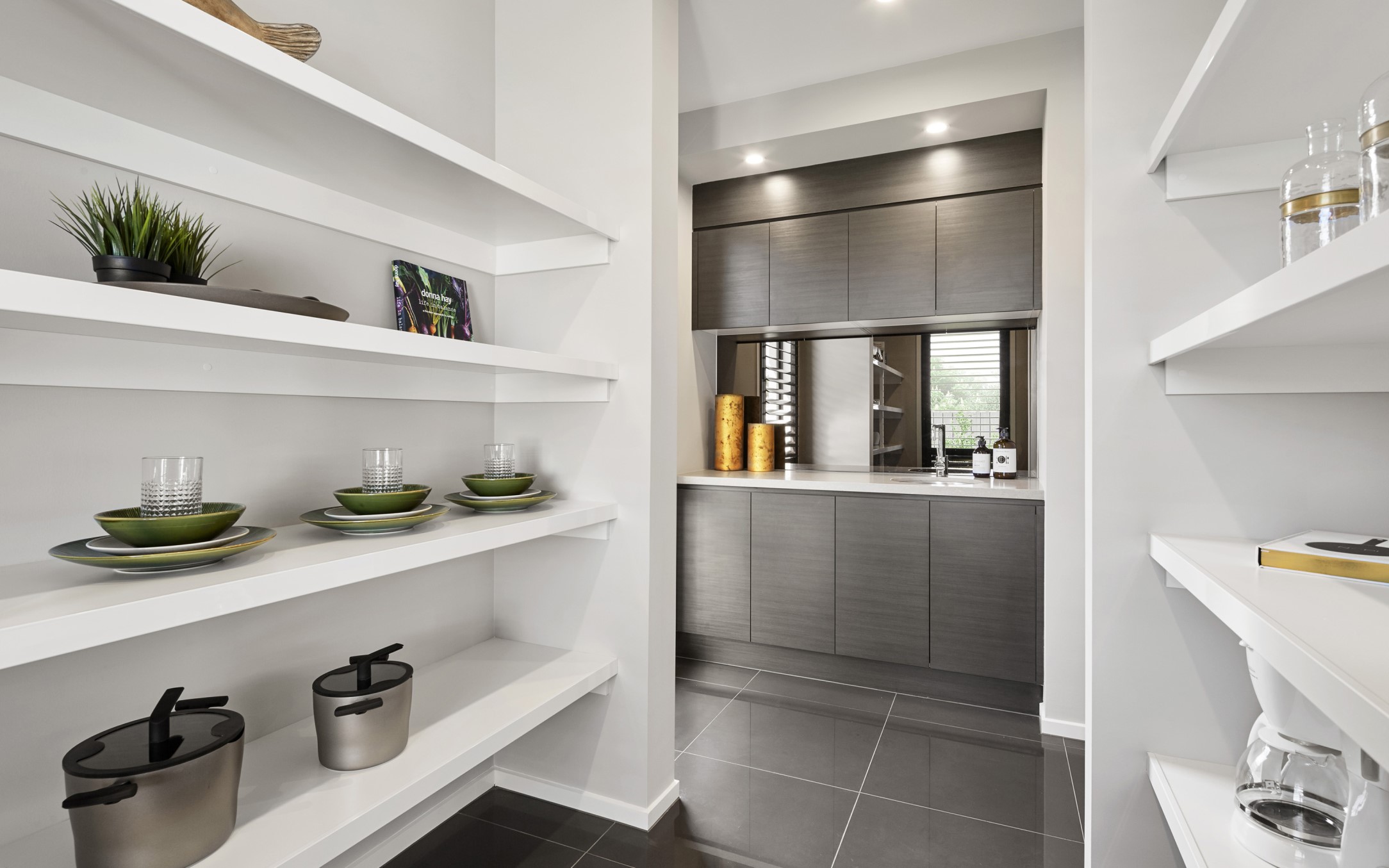 The butler's pantry in our Chifley home design.
What's a butler's pantry vs walk-in pantry?
You might think that the difference is primarily about size but there's a more significant distinction between a walk-in pantry and a hidden butler's pantry: function.

You see, even a large walk-in pantry is essentially about storage. Sure, there might be space in there for storing appliances and utensils as well as food, but it's still about having a place for things you need for cooking.
A butler's pantry design is also about storage – remember those candlesticks and fine-china from Victorian times? But it's also about activity. Some people describe a butler's pantry as a 'kitchen within a kitchen'. We're not totally sold on that description, as it seems a little circular but the essence is correct – even a small butler's pantry is a place to do things.

What you do in your hidden butler's pantry layout depends on how big it is and what appliances you have in there. Food-prep tasks might range from chopping up ingredients to deep-frying (or, more likely these days, air-frying). Drink-related tasks might include making coffee (where no-one can see the resulting ground-coffee mess!) and mixing cocktails. Cleaning tasks can range from simply hiding the mess until guests have departed to actually doing the dishes (or having the dishwasher do them for you).
Are there any drawbacks of having a butler's pantry?
We've covered the benefits of including a kitchen with butler's pantry in the floorplans of your home design. The main drawbacks only apply if you're tight on space or budget, as both are required for a successful butler's pantry.
If you're wanting inspiration to consider whether a butler's pantry is worth considering read our article:
Where to splurge and save in your new kitchen
.
Which Rawson home designs include a butler's pantry?
You have a few options for including a butler's pantry in your Rawson designed and built home.
Our Seville home design boasts a butler's pantry in addition to the main kitchen. The clever design of this five bedroom and two-and-a-half bathroom home caters to everyone's needs with three living areas, a study and kitchen complete with a butler's pantry.
The butler's pantry is hidden behind the main kitchen with easy access to the laundry and spacious linen press, yet the open door means you can move freely between the main kitchen and your pantry.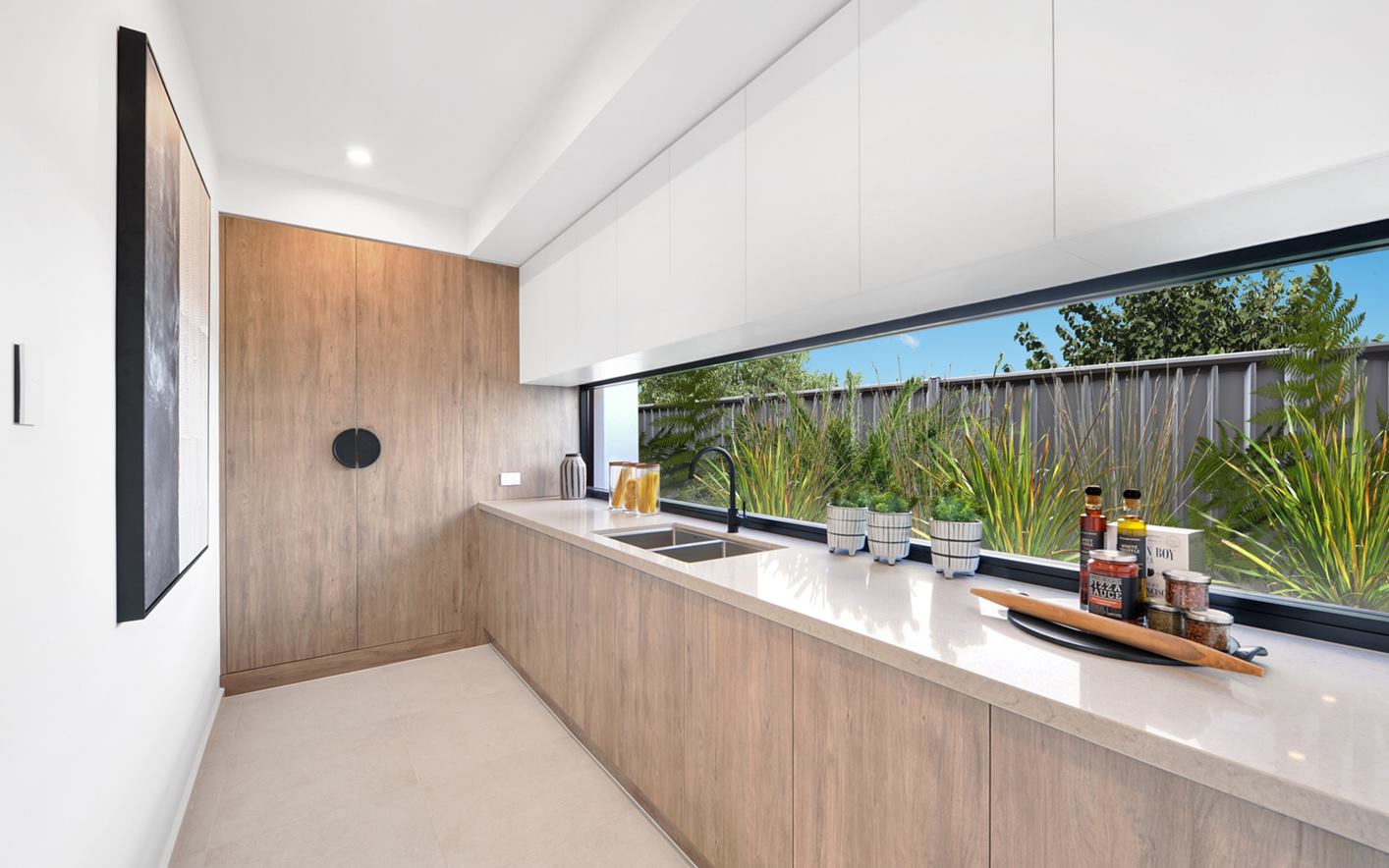 The butler's pantry in the Seville home design on display at HomeWorld Marsden Park.
Then, there's Marbella, a sophisticated home characterised by its streamlined façade. The butler's pantry, which is a standard part of Marbella's design, is not only ideal for corralling some of your kitchen activities out of sight of guests but leads you through to the laundry. What a great way to keep the business end of your home all in the one area.
The Marbella butler's pantry contains an additional sink to the main kitchen, as well as generous benchtop space and cupboards. We reckon it would be a great place to hide-away from the rest of the family and listen to your favourite tunes while sorting out both the day's dishes and the laundry!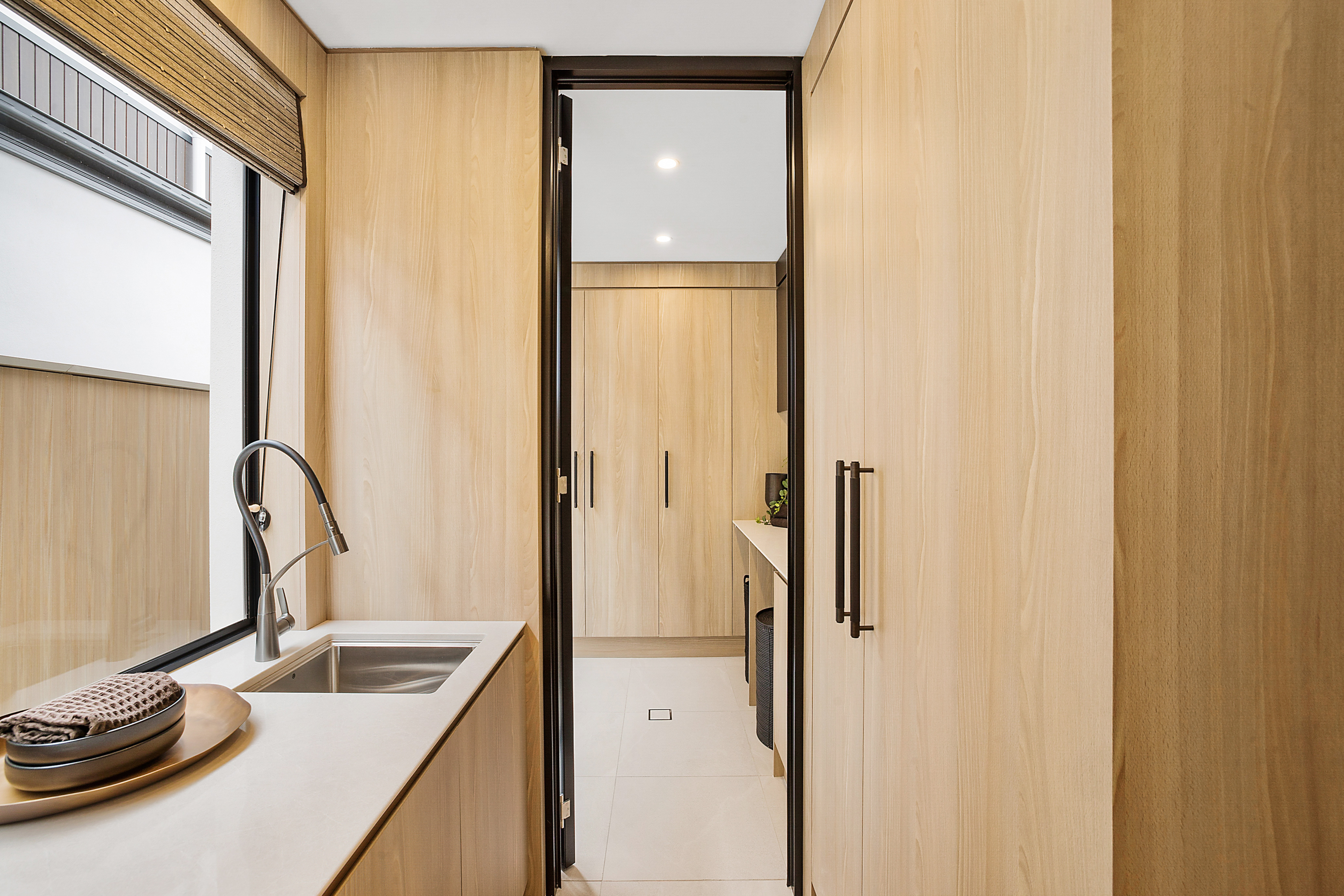 The Marbella butler's pantry on display now at HomeWorld Box Hill.
Finally, there's Rawson Homes Tailored, allowing you a personalised building process and total customisation, meaning you can design your dream butler's pantry as part of your build.