Design tips & trends
The five essentials for a Hamptons-style home
Home design trends come and go, but Hamptons style looks like it's here for good.
Australia might be half a world away from the summer retreats of New York's rich and famous, but that hasn't stopped us embracing the elegant external aesthetic and airy interiors that have become synonymous with the elite coastal playground of the The Hamptons in Long Island.
"Australians are drawn to Hamptons-style homes because they have a relaxed sophistication and embrace our indoor/outdoor lifestyle," says Rawson Homes interior design manager Julia Johnston.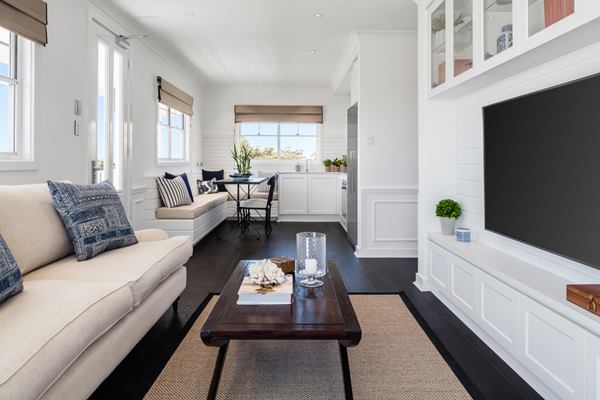 "Hamptons style is also incredibly versatile. Some people prefer a coastal, beachy aesthetic, others like a more rustic, farmhouse style – either way, you can put your own stamp on it."
So, what are the hallmarks of Hamptons style and how can you introduce them into your home? We asked Julia and award-winning designer and James Hardie ambassador Natalee Bowen for their tips to embrace Hamptons style the Australian way.
What is Hamptons style?
Hamptons architecture has evolved from its origins in the upmarket seaside towns called The Hamptons on America's east coast, but the trademark style pillars of warmth and sophistication remain.
"The traditional Hamptons-style façade is quite grand, with a large gabled roofline, double-hung windows, and lots of embellishments to add texture and depth," Julia says[KD1].
"Weatherboards are also essential for evoking that classic coastal charm."
Rawson Homes' Hamptons-inspired designs remain among its most popular, from the Mayfield's timeless weatherboard façade and wraparound balcony to the Winchester's dramatic charcoal colour scheme with contrasting white trim.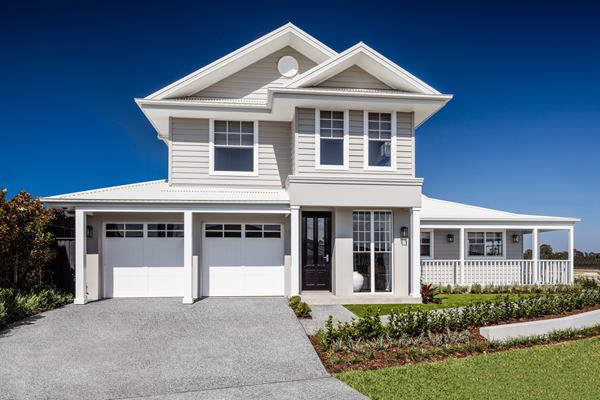 Inside, Hamptons style is all about easy living and entertaining in light-filled open spaces that bring the outdoors in.
"Think expansive open-plan living areas with soaring raked [pitched] or coffered ceilings, oversized bi-folds and large windows to bathe indoor areas in natural light," Natalee Bowen offers.
Coffered ceilings create a sense of space with their pattern of indentations or recesses that are often brought to life with architectural moulding, pressed metal, timber boards or beams.
How to embrace Hamptons style in your home
1. Get the weatherboard look
A weatherboard exterior is the key to nailing Hamptons' curb-side appeal, whether your home is by the sea or inland.
"James Hardie's Linea Weatherboard provides clean, horizontal shadow lines that evoke a classic, coastal charm," Natalee says.
"Relatively low-maintenance, the cladding also prevails over traditional timber in Australia's harsh climate. It resists flaking, warping or swelling, is resistant to fire and damage from termites and moisture" she adds.
Traditional coastal Hamptons style dictates an all-white façade with a contrasting trim, but Julia says Australians tend to favour pale grey cladding with fresh white architraves and doors.
"We're also seeing a lot of charcoal and dark grey cladding with white trim, which is quite a bold statement that works particularly well for Hamptons country-style homes, such as Rawson Homes' Winchester design on display at Box Hill," she says.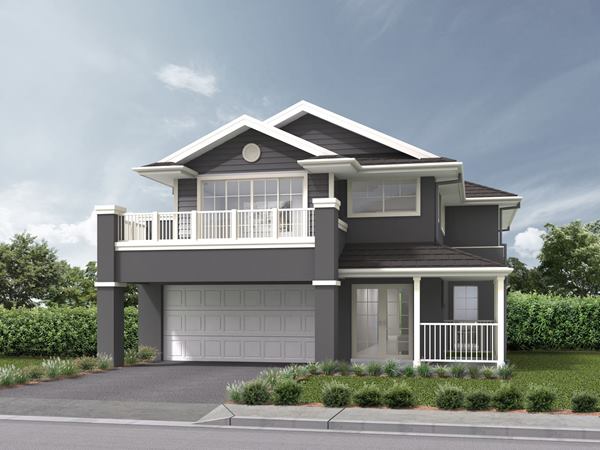 2. Create bright and airy spaces that connect with the outdoors
When designing your Hamptons-style home, keep the floorplan open and spacious and think carefully about orientation to make the most of morning and afternoon sunlight.
"Natural light can transform a room, so it's worth spending time at the start of a build or renovation maximising light all-year round," Natalee says.
Bifold doors help create a seamless transition between indoor and outdoor living spaces, while fresh white walls and timber floorboards provide the perfect Hamptons canvas to personalise and make your own.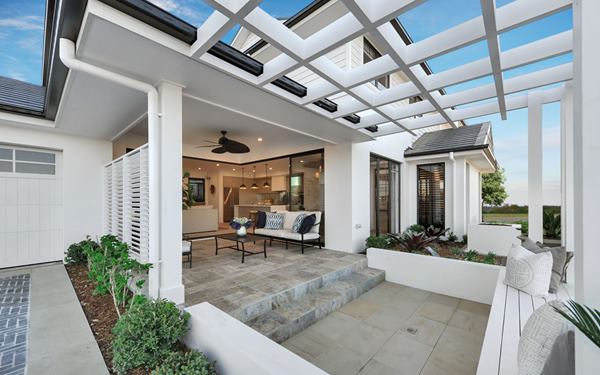 3. A Hamptons-style kitchen is all in the details
Julia says that traditional American Hamptons homes are big on decorative features such as dado wall panelling, ornate architraves, balustrades and fireplaces.
"Introduce components such as V-groove panelling and staircase detailing to add warmth and luxury, but don't feel as though you have to include everything – Australian style is a bit more relaxed," she says.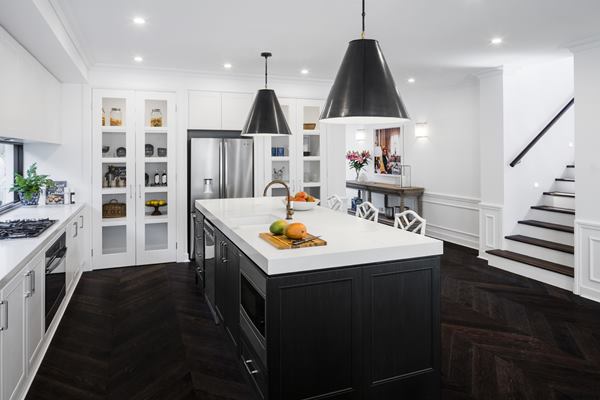 Hallmarks of a Hamptons-style kitchen include shaker-style cabinetry with open shelving or glass-paned doors and a big island bench with either a stone or marble benchtop. A porcelain sink adds a rustic touch.
"If we're designing a country Hamptons kitchen, we'll go with an extra layer of panelling on the joinery and antique-style handles in an aged gold or bronze," Julia says.
Lantern-style pendant lighting above the island bench completes the look and creates a warm and inviting space for family and friends to gather.
4. Go coastal with the colour palette
"The neutral colours of the coast help define a Hamptons-style home," Natalee says. "A focus on muted whites, creams, linen tones and greys provides the foundation for this look, while blues ranging from duck egg to rich navy offer the ideal contrast."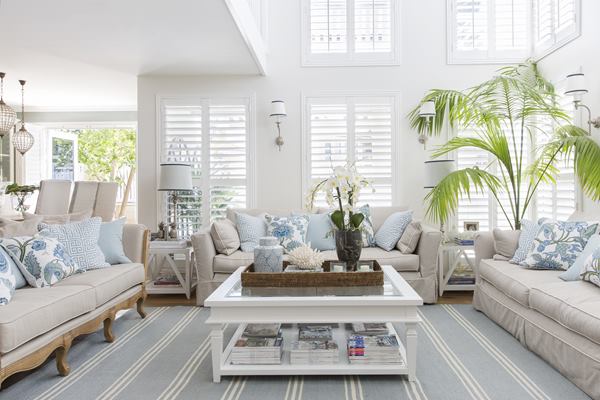 And while blues and greens will always play a starring role in any coastal Hamptons home, think beyond the sailboat motifs and ocean hues.
"You don't want things to look too themed," Julia says. "Warm, earthy colours, such as rust, also work really well as accents in a country-style Hamptons interior," she says.
5. Load up on natural materials and soft furnishings
Comfort is key in a Hamptons-style home, so opt for overstuffed linen sofas and bedding piled high with cushions and throw rugs. Layer floorboards with natural woven rugs crafted with jute or sisal.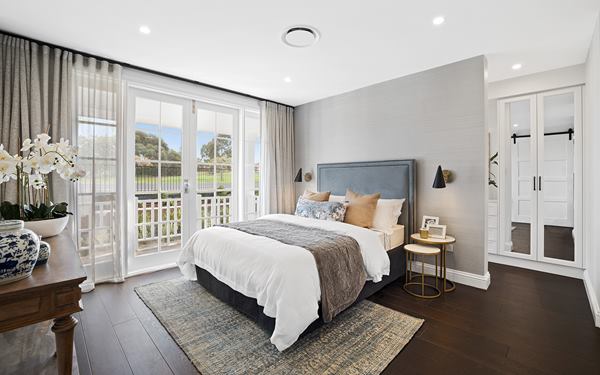 Plantation shutters and sheers work well as window treatments for a coastal climate or add linen curtains or roman blinds for extra warmth and texture.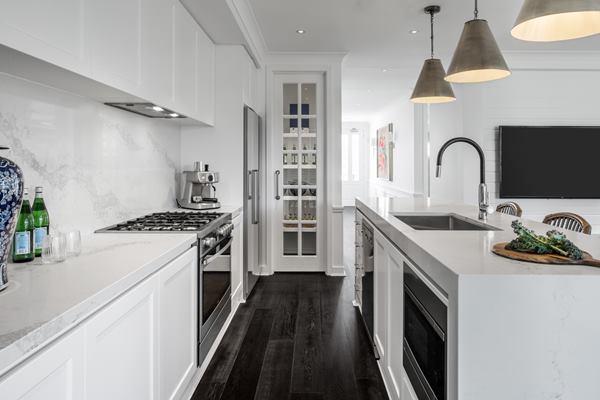 "Natural materials such as recycled timber and cane furniture work well but don't be afraid to change it up with a marble side table or modern lamp or eclectic artwork," Julia says.
"It's all about layering textures and pieces that create warmth and comfort."
Learn how you can bring Hamptons elegance to your new home by calling 1300 223 345 to speak with one of Rawson Homes' design consultants.